Harvard School of Public Health (SPH) professors stood conventional dietary wisdom on its head Friday (Oct. 18) by singling out for praise that burger-slapping, french-fry-pushing, soda-sloshing American icon, McDonald's.
"McDonald's deserves our applause," said SPH Nutrition Department Chairman Walter Willett, an authority on the American diet and whose book, "Eat, Drink and Be Healthy," attempts to reconstruct the U.S. Department of Agriculture's food pyramid.
Willett praised the oft-maligned fast-food giant for its decision last month to reformulate the frying oil for its french fries, fish fillets, chicken nuggets, hash browns, and chicken fillets to reduce the amount of trans fatty acids that make their way into the foods.
Trans fatty acids have been linked to increases in cardiovascular disease and diabetes, together with saturated fats.
"This is a very important kind of change in the food supply because we can have a lot of benefit without needing behavioral change," Willett said. "If you replace trans fats with polyunsaturated fats, you replace something bad with something good. You win twice."
Willett was a panelist at a Harvard School of Public Health forum on the American diet and eating habits, called "America's Food Environment: The New Health Hazard?" Joining Willett were McDonald's Corporate Nutritionist Ann Rusniak, Senior Vice President of Nutrition and Scientific Affairs for the National Dairy Council Gregory Miller, and Professor of Health and Social Behavior Steven Gortmaker. The event was moderated by Associate Professor of Epidemiology and Nutrition Eric Rimm.
The four spoke before a packed Snyder Auditorium at the School of Public Health. The event was the first in a series, sponsored by the SPH's Office of Communications, addressing public health issues in the news.
Willett said the move away from trans fats by such a large company as McDonald's will serve as an example in the food industry, as evidenced by the similar announcement by Frito-Lay a few weeks later that it would eliminate trans fats from its Doritos, Tostitos, and Cheetos snacks.
While Willett, a champion of diets high in fruits, vegetables, and whole grains, praised McDonald's, he didn't praise them too much, and he criticized the high amount of refined carbohydrates – found in things like white bread and highly processed foods – in their meals.
McDonald's' trans fat move was prompted by the sense of responsibility the company feels about serving healthy foods, Rusniak said. McDonald's, though criticized as a pusher of fast, unhealthy meals, struggles to balance the needs of nutrition with what the public will buy, she said. Rusniak pointed out that the company heavily promoted its healthy "McLean Deluxe" sandwich in the 1980s, only to eventually end production because of poor sales.
"We feed 45 million people a day in 123 countries around the globe and with that comes with enormous responsibility," Rusniak said.
Rusniak attempted to poke holes in criticism that McDonald's' marketing tactics fostering larger and larger meals are helping drive the American obesity epidemic. She said only 5 percent of customers actually "supersize" their meals, and that smaller portions, such as the original 3-ounce french fry serving, are still on the menu.
She said the average McDonald's customer comes to the restaurant only twice a month, with heavy users averaging just four visits a month. She said the criticism of the company for marketing to children is unwarranted because just 2 percent of the company's marketing budget is aimed at children.
She also attempted to blunt criticism that McDonald's foods are not good for children, saying that McDonald's Happy Meals, aimed at 4- to 9-year-olds, contain one-third of the recommended daily intake for calories, fat, saturated fat, and cholesterol for a child that age.
"We could, if we chose to, according to USDA labeling guidelines, label Happy Meals as either excellent or good sources for a minimum of nine nutrients and vitamins," Rusniak said.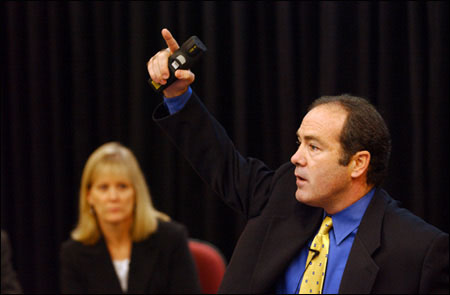 Got milk?
The Dairy Industry also came in for criticism during the forum, with Willett saying that available science doesn't support assertions that children need three glasses of milk or servings of dairy products a day. In fact, Willett said, the scientific evidence is just the opposite, that too much dairy is a source of extra dietary fat and surplus hormones produced by cows in U.S. dairy herds.
While dairy is a source of calcium, Willett said that evidence on the need for calcium intake shows that calcium can be added to the diet through a supplement and that any increase in bone mass from additional calcium intake is transitory anyway. Willett's assertions came under fire from Miller, who said the National Dairy Council funds $4 million in research annually because it wants to understand the science behind its products. Miller said the conflicting messages consumers get on diets show it's not a "one-size-fits-all" proposition, but a situation where people should choose diets that meet their own needs.
While agreeing that Americans are overfed, Miller said we're also undernourished. He touted dairy products as a whole food that contains not just fat and calcium, but also a variety of vitamins and minerals necessary to the diet.
"Dairy foods are a complete nutritional package, in terms of what they deliver. They're an affordable, convenient way to deliver nutrition in the diet," Miller said.
Miller countered the scientific evidence presented by Willett with studies of his own, showing dairy's benefit in the diet, saying it's been linked to reduced high blood pressure, lower rates of breast cancer, and is an important source of calcium.
"We realize we're under a microscope every time we put out an ad," Miller said. "We feel confident the messages we're putting out are based on good science."
'Growing a larger market'
While the food industry was front and center during the forum, responsibility for America's obesity epidemic should be shared between the food producers and the television industry, according to Gortmaker.
Gortmaker said the sources of the rise in obesity in the United States are simple: We're eating too much and watching too much television. Those two trends reflect the success of food industry marketing, which aims to get us to eat a little bit more every day, and of television/video/film industry marketing, which aims to get us to sit and watch a little bit more every day, Gortmaker said.
"Over time, I really think that this is what's driving the epidemic. It's not rocket science," Gortmaker said.
Gortmaker said 30 percent of U.S. children watch five hours or more of television per day and 60 percent have a television in their bedrooms. Simply removing the television from a child's room can cut television watching by 50 minutes a day, he said. He also suggested removing soft drinks and candy from schools and prohibiting food advertising aimed at children.
"There's lots of evidence that the best single predictor of obesity in kids is television viewing," Gortmaker said, adding that because larger people require more food to sustain their body size, "The industries involved here are actually growing a larger market."