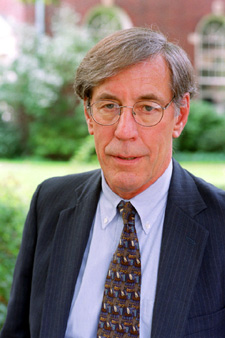 Robert D. Reischauer '63 has become the newest member of the Harvard Corporation, the University announced Sunday (Oct. 6).
President of the Urban Institute in Washington, D.C., and the former director of the Congressional Budget Office, Reischauer recently completed his term as a member of the University's Board of Overseers.
"Bob Reischauer is highly respected in both university and policy circles for his intelligence and integrity," said James R. Houghton, Senior Fellow of the Corporation and chair of the search committee. "He knows Harvard, he cares deeply about its welfare, and he is always alert to opportunities for improvement. He combines the intellect of a scholar with the experience of a seasoned government official and nonprofit leader. We're very fortunate to have him."
"I have long admired Bob Reischauer, both for his intellectual energy and for the thoughtful and balanced way he approaches issues," said President Lawrence H. Summers. "He's someone who elevates and sharpens any conversation he's part of, and whose sound judgment, inquisitiveness, and sense of fairness benefit any institution he serves. That's certainly been true of his service on the Board of Overseers, and no doubt will be true of his time on the Corporation."
Said Reischauer: "At a time when higher education is more critical than ever to the nation's future, I welcome this opportunity to continue my participation in the University's governing structure. Over the next few years, changes in the economy, the work force, national research priorities, and global affairs will pose new challenges for Harvard. I look forward to helping Harvard deal with these challenges creatively and strengthen its leadership role in teaching and scholarship."
Elected to Harvard's Board of Overseers in 1996, Reischauer finished his six-year term in June. Noted for his energetic and influential service, he held a series of leadership positions on the board, chairing its Committee on Social Sciences, rising to become vice chair of the board's Executive Committee, and leading its Subcommittee on Visitation. He has also served on the visiting committee to the School of Public Health.
Since February 2000, Reischauer has led the Urban Institute, a nonpartisan think tank that examines the nation's critical social, economic, and governance problems. As president, he oversees the work of nine policy research centers spanning fields from education to nonprofits and philanthropy to metropolitan housing and community development. He served as the institute's senior vice president from 1981 to 1986.
From 1989 to 1995 Reischauer was director of the Congressional Budget Office (CBO), the nonpartisan agency with a broad mandate to provide Congress with analyses and estimates intended to inform decision making regarding the federal budget. Earlier in his career, from 1975 to 1981, he held a series of positions at CBO in the years when the agency was first taking shape.
From 1986 to 1989 and from 1995 to 2000, Reischauer was a senior fellow of the Brookings Institution. He is considered among the nation's leading commentators on an array of federal budget and policy matters, and has written widely in both academic publications and the popular press. A member of various nonprofit boards and government advisory bodies, he is currently vice chair of the Medicare Payment Advisory Commission, and from 1995 to 2000 chaired the board of the Manpower Demonstration Research Corporation, which studies the effectiveness of policies and programs intended to improve the well-being of low-income citizens.
Reischauer's Harvard roots run deep. He is the son of the late Professor Edwin O. Reischauer, who for decades was the pre-eminent Harvard scholar of Japan. He graduated from Harvard College in 1963, and went on to receive two degrees from Columbia: master of international affairs (1966) and a Ph.D. in economics (1971).
Reischauer has been honored for his contributions to public service by such universities as Stanford, Syracuse, Brandeis, and Ohio State. He is an elected member of the Institute of Medicine and of the National Academy of Public Administration, and a founding member of the National Academy of Social Insurance. He has served on the editorial boards of publications including Health Affairs, Public Administration Review, and Political Science Quarterly.
The seven-member Harvard Corporation, formally known as the President and Fellows of Harvard College, is Harvard's executive governing board and the smaller of Harvard's two boards, the other being the 30-member Board of Overseers. In accordance with Harvard's charter, the corporation on Sunday (Oct. 6) elected Reischauer as a Fellow of Harvard College, with the consent of the Board of Overseers.