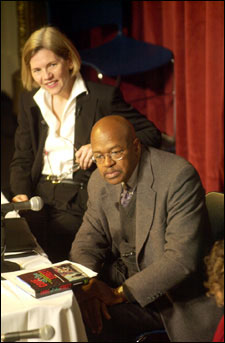 To complement its museum exhibit "Enterprising Women: 250 Years of American Business," the Radcliffe Institute for Advanced Study gathered scholars from a variety of disciplines to explore the intellectual, political, and cultural context of "Women, Money, and Power" Oct. 24 and 25.
While the museum exhibit, with its multimedia displays and historical curiosities, is upbeat and justifiably proud of businesswomen's accomplishments, the conference was the dour, scholarly sister. The conference, while not without its success stories, provided a broader but less cheery view of women, money, and power.
"While I appreciate women's work as entrepreneurs and their successes, my own research is focused on women's failure," said University of North Carolina Professor Judith Bennett, who spoke on a panel that explored women's entrepreneurship across cultures and throughout history.
Although she may not have known it – Bennett was the first speaker of Friday's sessions – she set a tone that echoed through the morning's panels. From medieval England to the mountain marketplaces of Peru, from poor, inner-city working women to bankrupt middle-class families, panelists addressed the stumbling blocks and barriers to women's financial freedom.
From pubs to Peru
Bennett, a historian who casts a feminist eye on the study of medieval history, drew "troubling parallels" between women beer brewers, or brewsters, in medieval England and the struggles of contemporary female entrepreneurs today.
In the 1300s, she said, ale brewing was a female-dominated enterprise. These brewsters exhibited all the characteristics of modern entrepreneurs, investing in materials, producing a product, and marketing it for sale.
Yet in 300 years, as the brewing industry grew in scale and prestige, "brewing became a man's trade," said Bennett. Any women in the business were employees, not entrepreneurs.
"Between 1350 and 1600, English women were unable to take advantage of the opportunities that arose as their old low-profit, low-status trade became a new, skilled, profitable, and prestigious industry," said Bennett.
The reason, she added, is "drearily familiar." Women had less access to capital than men, were less able to negotiate the complex social and legal relationships that became necessary as the industry changed, and fell victim to a popular misogyny that suggested that problems in the brewing business were caused by the presence of women.
"It's not clear to me how brewsters could have responded better to the expansion of their trade in the late 14th century," said Bennett. "It's also, I'm sorry to say, not clear how female entrepreneurs could compete on a level playing field today."
Bringing geographic diversity to the discussion, George Mason University associate professor of anthropology Linda Seligmann described the unique economic and class position that Peruvian market women occupy. Despite their skillful manipulation of identities and negotiation of their informal economy, she said, these market women may be driven to their positions from poverty, not an entrepreneurial spirit.
Claire Robertson, associate professor of history at Ohio State University, compared women's economic status in two African cities – Accra, Ghana, and Nairobi, Kenya – to show that the quests for economic stability and political rights are linked.
City stories
Returning to contemporary America, Katherine Newman, Radcliffe dean of social science and the Malcolm Wiener Professor of Urban Studies at the Kennedy School of Government, introduced the next panel, "Women Without Money: Bankruptcy and Poverty."
"The most enterprising women may be the women without money," she argued, bringing to bear her research on urban and low-income populations and her recent book, "No Shame in My Game: The Working Poor in the Inner City" (1999).
Panelists Carol Stack, professor of social and cultural studies in the School of Education at the University of California, Berkeley, and Elijah Anderson, professor of social sciences at the University of Pennsylvania, shared real-world struggles of inner-city poor people living with welfare reform and urban poverty.
"Poor families have been remarkably entrepreneurial in exchanging rather than purchasing care" for their children or their elderly, said Stack, author of a landmark study in urban anthropology called "All Our Kin: Strategies for Survival in a Black Community" (1974). She called this free or low-cost service "kin care."
But the networks of kin care are eroding, she said. "The women we have studied are pulled out of the informal family economy and set down on that road from welfare to work," she said, and they have been forced to develop new strategies to meet this new challenge.
Stack introduced several women from her studies, amplifying the familiar dilemmas they face: low-wage jobs, sometimes several of them, with no health benefits. The many hours they work outside the home often forces them to pursue steadier child care than kin care provides, which moves money outside the family network.
Taking personal responsibility seriously by getting off welfare and into the workplace, said Stack, can undermine poor women's family responsibilities and leave them in fragile economic circumstances.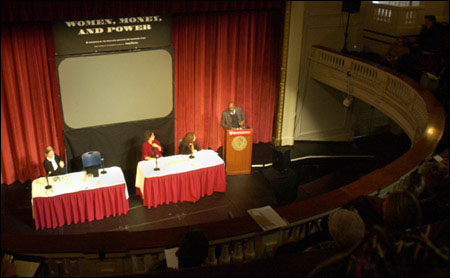 Anderson, who studies African-American sociology, especially in inner cities, shared sobering stories he collected from urban Philadelphia's taverns, Laundromats, front stoops, and even crack houses.
"I've come to see that the inner-city economy in the most distressed areas rests on three props: low-wage jobs, welfare payments, and the idiosyncratic, irregular underground economy based on drug dealing, street crime, bartering, begging, sharing, exchanging," he said. Eliminating any one of these puts pressure on the other two.
Welfare reform, he said, is increasing these communities' reliance on the underground economy. Anderson described food stamp fraud, "contingency prostitution" and even an informal car wash economy that straddles street crime and legitimate work as mechanisms he observed poor people using to cope.
"What's needed is an analysis of the community effects of welfare reform," he said. "You'd see that there is much distress because of these policies."
Bankrupt in the 'burbs
Panelist Elizabeth Warren's talk on "The Declining Fortunes of the Middle Class Mother" may have put the conference audience of Radcliffe alumnae, scholars, and community members – overwhelmingly female, and by appearances middle class – on more familiar, if more frightening territory.
Warren, the Gottlieb Professor of Law at Harvard Law School, showed that middle-class women, particularly mothers, are far more financially vulnerable than they were 25 years ago, despite their increased presence in education and the workplace and the steep upturn of their earnings.
Bankruptcy filings – a middle-class phenomenon, she said – have also risen sharply in that time period, and female heads of household with minor children file for bankruptcy at a much greater rate than others do.
Warren said that while the gross incomes of two-income families today is much higher than the single-income family of the early 1970s, today's earners have a far smaller percentage of disposable income after paying for housing, child care, health insurance, and transportation.
In addition, she said, the risk to contemporary families of a devastating financial blow – job loss, divorce, or major medical incident – is greater today than 25 years ago.
"When you unite these two factors, you have mobility on the way down," she said.
As the morning's panels finished and the audience filed to the Charles Hotel to hear CNBC CEO Pamela Thomas-Graham speak, the mood was more upbeat than the panelists' messages.
"What's very welcome is all of this excellent scholarship focused on real issues," said Kennedy School lecturer Martha Chen, who joined Indian women's activist Ela Blatt in an afternoon session on entrepreneurship and social change. "I'm glad to hear the rethinking of a lot of the policy paradigms from the perspective of low-income women."