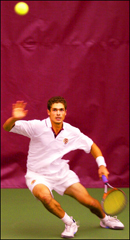 The Harvard men's tennis team played host to a crowd of racketeers this past weekend (Sept. 27-29) at the Beren Tennis Center. The three-day Harvard Fall Invitational gave teams from as far away as Alabama, Notre Dame, and the University of Nevada, Las Vegas (not to mention Ivy neighbors Brown and Princeton), an opportunity to test out their singles lineups and doubles combinations in the early going of the season. Though, even as the schools served up some serious competition, only the results from individual singles and doubles counted toward national and regional rankings.
Harvard junior George Turner was perfect throughout the tournament, beating his three singles opponents in as many days. In his lone defeat of the competition, sophomore Jason Beren dropped a singles match to Princeton's David Gopstein, 6-4, 7-5, on Friday afternoon. The following day, Beren – a distant cousin of Robert M. Beren '47, M.B.A. '50, for whom the Beren Tennis Center is named – teamed up with Turner to down Notre Dame, 8-5, later dropping Alabama, 6-2, 6-3, on his own in singles contention.
Collectively, the Crimson recorded 19 victories out of 30 singles contests, dominating on Sunday (Sept. 29) with a string of seven straight wins. Team Harvard was equally impressive in doubles play, capturing 10 of 15 matches.
Last weekend's competition was the Crimson's final warm-up event before the ECAC Championship, which starts Friday (Oct. 4) at Flushing Meadow, N.Y., site of the U.S. Open.