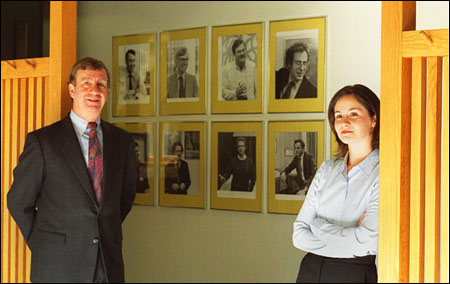 In a classroom in Pound Hall at the Harvard Law School (HLS), HLS student Yael Bar-Ilan is making her case. The good faith doctrine, a fundamental maxim of American contract law, is a dynamic tool with no autonomous content, she says.
Before her, fellow student Dotan Oliar applied economic theory to question the duration of scope of copyrights in the Internet age, and Columbia Law School's Tal Zarsky cautioned that online mining of personal data can manipulate consumers' money and minds.
Unlike many of their colleagues in the Law School's prominent juris doctor (J.D.) program, Bar-Ilan and Oliar are presenting scholarship, not legal cases. They are among the Law School's 70-plus legal scholars pursuing the doctor of juridical science (S.J.D.) degree, the law equivalent to the Ph.D. in arts and sciences.
The two presented their doctoral research at the Law School's first-ever S.J.D. Conference last week (Oct. 18 – 19), where they also received comments and critiques from HLS and FAS professors. In all, 11 doctoral candidates from Harvard, Columbia, and New York University shared their research on subjects that ranged from the collection of personal information over the Internet to federalism and tax law.
"The conference succeeded in highlighting the diversity of the work people are doing in graduate law degrees," said Benjamin Hett, advisor to S.J.D. students and a key organizer of the conference. "It's always extremely valuable to get professors who are top-notch in their field to comment on your work," he added.
Competition to present in the conference was nationwide and stiff, said William Alford, the Henry L. Stimson Professor of Law and associate dean for the graduate program and international legal studies. In the past decade or two, the degree – more obscure and more specialized than the J.D. that practicing lawyers must pursue – has made leaps in popularity.
Not surprisingly, the quality of students and scholarship has followed a similar trajectory, and Harvard's S.J.D. program is more competitive than ever.
"The students are doing enormously sophisticated work," said Alford. Unlike the J.D. candidates, most of whom arrive at HLS with no experience in the legal world, S.J.D. candidates must have a first degree in law as well as a master's degree. They ideally spend up to four years in the program and must produce a dissertation that contributes significantly to legal scholarship.
"Within the area that they're researching, they are deeply steeped," said Alford.
Alford, who assumed leadership of the graduate programs in July, takes charge at a high point in the degree's century-old history. Founded to lift legal education to the scholarly level of an arts and sciences education, the S.J.D. program at Harvard and elsewhere was largely eclipsed for most of its history by the J.D., which has been more focused on producing lawyers than scholars.
In the late-1980s, however, Harvard led an initiative to "upgrade the degree and restore its luster, to make it much more like a Ph.D.," said Alford.
Harvard's move, followed by other law schools, reflected the increasingly academic nature of legal education that emerged two decades ago, when more law school faculty members were bringing advanced degrees, often in subjects like economics, philosophy, or history.
"There came a sense that if people are doing advanced study, why not do advanced study in law itself?" said Alford.
An international dimension
Oliar and Bar-Ilan, who presented at the S.J.D. Conference, are both Israeli and alumni of Tel-Aviv University. Of the 11 scholars representing their work at the conference, eight were Israeli; a German, Estonian, and Argentine rounded out the roster.
Its international flavor is not coincidental, said Alford, calling the S.J.D. student body "overwhelmingly foreign." Many foreign law schools require S.J.D.s of their faculty, and students often seek to globalize their perspective by studying in the United States.
While most students return to their native countries, many are landing faculty appointments at U.S. law schools; Harvard S.J.D.s have joined the faculties of Harvard, the University of Chicago, New York University, and Georgetown.
"This degree is contributing importantly to the growing internationalization of the U.S. law professorate," said Alford. He noted that in addition to their scholarship, the S.J.D.s convene workshops, colloquia, and panels on a range of issues that extend their international perspective to the entire HLS community.
The S.J.D.s "bring an international dimension," to the Law School said Professor of Law Christine Jolls. She delivered comments on Bar-Ilan's good faith paper at the conference and noted that the research cited European scholars with whom Jolls was not familiar. "There's a cross-fertilization of methodologies and approaches."
Alford, who credits much of the program's recent success to his two predecessors, former Professor Ann-Marie Slaughter and Henry L. Shattuck Professor of Law David Kennedy, hopes that more American students will pursue the academic challenge of the S.J.D.
As the program continues to attract top scholars who showcase their work in forums such as the S.J.D. Conference, HLS faculty members are taking notice of the doctoral students, increasingly tapping them for research assistants and article collaborators.
Indeed, Jolls drew Bar-Ilan's intellectual history of the good faith doctrine Jolls' first-year contracts class and said that she supervises an S.J.D. student who has a publishing record some of her faculty colleagues would envy.
At the first break in the S.J.D. conference, less than halfway through the presentations, it's clear that Alford is impressed with what he's heard.
"There has been a rebirth and a great improvement in quality over the last decade of the kind of work S.J.D.s are turning out," he said. "It's extraordinary."