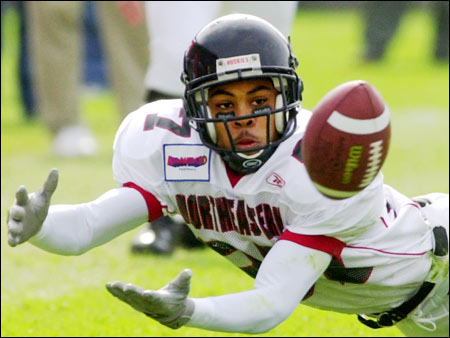 After marching 81 yards in the waning minutes of last Saturday's contest of regional supremacy at the stadium, the Harvard football team suddenly found itself hot on the heels of the Northeastern Huskies. That is, until they tripped.
Just seven yards out from the end zone with 39 seconds and two time outs to go, the Crimson drive – and come-from-behind spirit – ended with a fumbled pitch to wide receiver Rodney Thomas '03. The loose ball, promptly grounded by Northeastern's Steve Anzalone, handed the nationally ranked Huskie's the 17-14 win. The hard-earned victory marked Northeastern's first against the Crimson in six attempts. Still perfect in the Ivy League, Harvard sits at 3-2 with the loss.
Notable for its two fourth-down conversions, the impressive fourth-quarter drive was orchestrated by sophomore Ryan Fitzpatrick '05, who took the reins from team captain Neil Rose '03 to start the second quarter. The second year play-caller out-threw his Huskie counterpart, Shawn Brady, 155 to 128 yards. He also picked up a team leading 81 yards rushing on 12 carries. Rose, in his first return to action since Sept. 28, threw for 54 yards in the first quarter alone.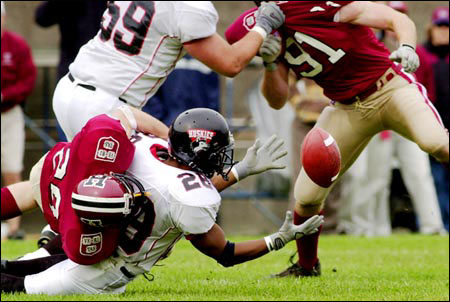 Harvard's two-touchdowns – a 1-yard fling to tight end Adam Jenkins '05 in the second quarter, and senior Carl Morris' 18-yard reception in the third – marked the first time in 14 contests that the Crimson failed to score at least four touchdowns in a game.
The 4-1 (2-0 Ivy) Princeton Tigers host Harvard this Saturday (Oct. 26). The reigning league champion Crimson share first place with the Tigers, who recorded their fourth consecutive win Oct. 19, beating Brown, 16-14. Against Princeton, Harvard hopes to extend its Ivy victory streak to 10 games.