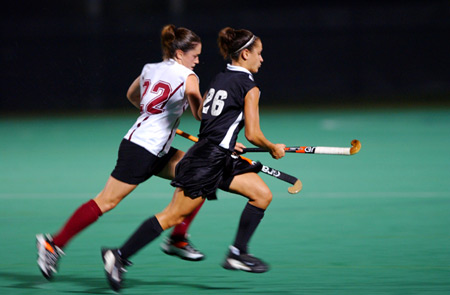 The consistently successful Harvard field hockey team (6-2, 3-0 Ivy) showed a penchant for being consistent in the losing department as well, dropping its second 3-2 decision at Jordan Field on Oct. 5, this time to third-ranked Wake Forest. The season's second loss snapped a four-game win streak for the Crimson, who managed three shutouts since Sept. 21 – including 3-0 and 4-0 wins over Yale and the University of Massachusetts, Amherst, respectively, and most recently, a 2-0 blanking of Providence on Oct. 2.
Against Wake Forest (8-2), Harvard midfielder Kate McDavitt '04 put Harvard on the board first by capitalizing on a penalty corner rebound in the first half of play. Eight minutes later, the Demon Deacons tied things up at one apiece, also scoring off a penalty corner. Wake Forest scored the go-ahead goal with just over two minutes before halftime when Maeke Boreel, fed by teammate Kelly Doton, fired the plastic past Harvard cage keeper Katie Zacarian '04 for the 2-1 advantage.
Late in the second half, Wake Forest extended the lead to two goals, when Lucy Shaw scored on yet another penalty corner setup. With just 1:07 left in the match, McDavitt, the Ivy League Player of the Week for Oct. 1, cut the Crimson deficit to 3-2, scoring the game's final goal off a penalty corner rebound. Goalie Katie Ridd, who made seven saves, kept the surging Harvard offense at bay to secure the 3-2 win. Harvard's Zacarian finished with 10 stops.
With eight games remaining on their schedule (four of which are inter-league), coach Sue Caples' squad is currently deadlocked with Cornell and Princeton for the coveted first-place slot. Last season, the Crimson tied for second place with Penn behind eventual Ivy League Champion Princeton. Harvard resumes league play Oct. 12, hosting the red-hot Big Red of Cornell (7-2 at press time). The action starts at noon.