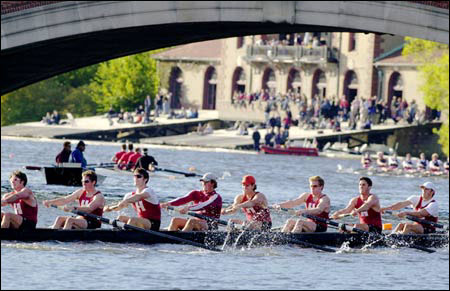 Harvard's crew churns the Charles beneath the Weeks Bridge during championship eights action at the regatta on Sunday, Oct. 20. Staff photos by Jon Chase This year marked the 38th Head of the Charles Regatta, an event that draws school crews and rowing clubs from around the world. Some 6,000 rowers converged on the noble river on Saturday and Sunday, Oct. 19 and 20. From the banks of the Charles and the bridges (seven in all) above it, a crowd of 260,000 rowing faithful took in the venerable race over the two days. A traditional "head" race is 3 miles long. In it, boats race against the clock. The race usually lasts about 15 to 16 minutes.
On Saturday, Harvard placed seventh in Club Eight and 19th in the College Eight. The second day, in Youth Men Eight, Harvard finished 27 out of 51 teams in a time of 16:54, while the Black and White Radcliffe rowers finished 15 in a field of 46 teams at 19:03.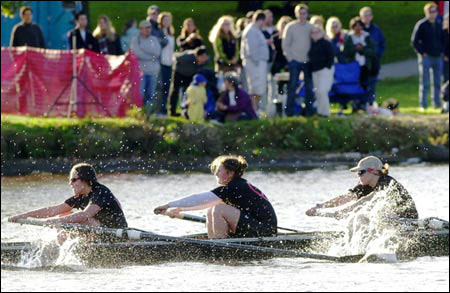 Radcliffe's second boat pulls past landlubbing spectators during the championship eights race at the Head of the Charles regatta this past weekend. Although the results from the Regatta don't count toward collegiate rankings or records, teams' showings in the race offer more than a glimpse of what's to come in the spring, when the regular season really begins.