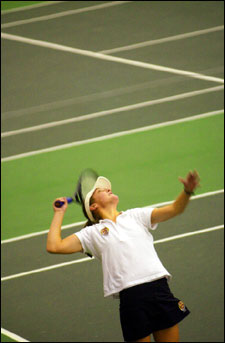 A host of athletes from the East Coast wrapped up play at the Omni Hotel's Intercollegiate Tennis Association's Eastern Region Tournament this past Tuesday (Oct. 29) at the Murr Tennis Center. The four-day tournament is the qualifying event for the foremost indoor tournament in the nation – the National Indoor Championships – to be held Nov. 7-10 in Dallas.
Despite dropping a 1-6, 7-6, 6-3 decision in the title match against William and Mary's Megan Muth, Harvard sophomore Alexis Martire is still Big D bound for having earned a berth in the finals. A No. 9 seed, Martire held a convincing 6-1, 4-1 lead in the title match until Muth fought back to take the 7-6 win in the second. Muth's resilient play translated into a 6-3 win in the third and deciding set.
Setting up the finals showdown, Muth downed the Crimson's Susanna Lingman '05 with a 6-4, 6-1 win in the semis, while Martire dismissed No. 5 seed Delila Causevic of Maryland, 6-3, 6-1. That particular contest was a bit of justice for the Crimson, given Causevic's earlier victory over Harvard's Courtney Bergman '05, last year's singles champion.
Senior co-captain Dave Lingman and junior Mark Riddell captured the men's doubles title, upsetting the 2001 champion pair, Adil Shamasdin and Nick Goldberg of Brown, 8-6.