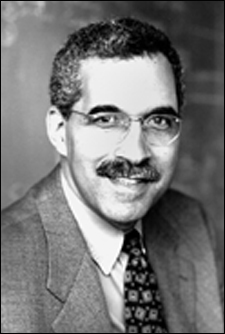 Academic performance is a key benchmark in our society. Success or failure in this area can profoundly affect future opportunity, how we are perceived by others, and the way we see ourselves. Using 15 years of his own research to identify the unseen pressures affecting the academic performance of particular groups, Claude Steele, the Lucie Stern Professor in the Social Sciences at Stanford University, will discuss this knotty subject at the Agassiz House Theatre in the Radcliffe Yard on Oct. 10 at 4 p.m. The talk is free and open to the public.
Steele's lecture, "The Spectre of Group Image: Its Unseen Effects on Human Performance and the Quality of Life in a Diverse Society," will launch the third annual Dean's Lecture Series at the Radcliffe Institute for Advanced Study.
Steele will examine the theory that "a stereotype threat" – the threat of being perceived as a negative stereotype or the fear of poor performance confirming that stereotype – can be powerful enough to shape the intellectual performance and academic identities of entire groups of people. According to Steele, everyone experiences "stereotype threat" because we are all members of some group about which negative stereotypes exist.
Focusing on powerfully affected groups – women in math, or minorities in many academic fields – Steele will document the powerful interfering effects of "stereotype threats" as well as show that when the pressure is alleviated, performance improves dramatically. He will describe new research on the nature of group identity and its roots in the perception that one is under threat because of that identity.
Steele earned a bachelor of arts from Hiram College and a doctorate in psychology from Ohio State University. Prior to joining Stanford, he taught at the University of Michigan, the University of Washington, and the University of Utah. He served on the board of the American Psychological Society and as chair of the executive committee of the Society of Experimental Social Psychology.
The annual Dean's Lecture Series features leaders in the humanities, arts, and sciences, speaking on social, global, and academic topics. Upcoming talks in the series include Emily Mann, artistic director of Princeton's McCarter Theatre (Dec. 9); Alan Guth, professor of physics at Massachusetts Institute of Technology and co-author of "The Inflationary Universe: The Quest for a New Theory of Cosmic Origins" (Feb. 18); Caroline Walker Bynum, a university professor at Columbia, medieval scholar, and author of "Metamorphosis and Identity " (March 18); and Zadie Smith, author of the critically acclaimed novel "White Teeth" and the new novel "The Autograph Man" (April 14).
For more information on the series or about the Radcliffe Institute, call (617) 495-8600 or visit http://www.radcliffe.edu.