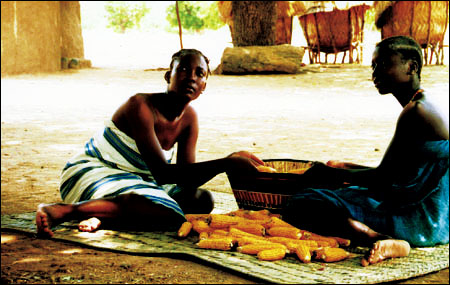 While working on his master's thesis in history at the Sorbonne in Paris, Gaston Kaboré, a filmmaker from Burkina Faso in West Africa, made a decision that would change his life.
The thesis was on the representation of Africa in the French illustrated press at the end of the 19th century. In examining these images, Kaboré realized how the French press of that time disguised its agenda of colonial exploitation under the guise of civilizing a backward and exotic land.
The experience opened his eyes to the power of images to shape and transform people's consciousness. Instead of going on to earn a Ph.D. in history as he had planned, Kaboré decided to go to film school.
"I wanted to learn the language of moving pictures to be able to use cinema in history, but also to reportray, to repossess my continent through images," he told an interviewer in 2000.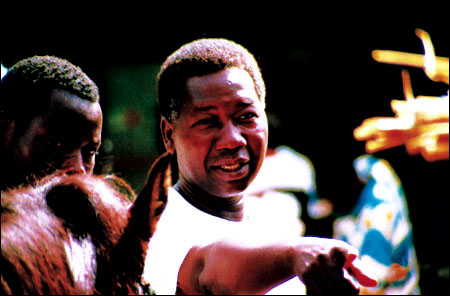 Today, Kaboré is recognized as one of Africa's foremost filmmakers. This Friday (Oct. 25), he will arrive in Cambridge for a six-day residency as the 2002 Genevieve McMillan and Reba Stewart Filmmaker Fellow.
The fellowship, established in 1997 and administered by the Harvard Film Study Center, brings Francophone African filmmakers to campus for a series of lectures, workshops, and screenings of their work.
According to Lucien Taylor, the Film Study Center's associate director, the Francophone nations of Africa, including Algeria, Benin, Burkina Faso, Ivory Coast, Guinea, Mali, Mauritania, Morocco, Niger, Togo, and Tunisia, have produced the continent's greatest number of distinguished filmmakers. Many of them, like Kaboré, have received training as well as funding for their projects from France.
"There has been a remarkable efflorescence of cultural production in postcolonial Africa, especially in cinema," said Taylor. "Francophone African films in particular have displayed an extraordinary stylistic and thematic diversity, ranging from allegorical and mythopoetic precolonial epics to gritty realist documentaries set in the globalizing contemporary world. More remarkably still, such diversity is often reflected within the work of a single director, such as Kaboré."
Kaboré's first film, "Wend Kuuni" (God's Gift), released in 1982 and the first feature film to be made in Burkina Faso, is set in the African kingdom of Mossi in precolonial times. The film, whose narrative technique reflects African storytelling traditions, may also be seen as an embodiment of Kaboré's belief in the political power of cinema.
"I think Africa is suffering more from a lack of memory than from a lack of resources," he said. "I do believe that cinema helps to wake up, to open the eyes of the people."
"Wend Kuuni" will be shown 7 p.m., Friday, and 9 p.m., Saturday (Oct. 25 and 26), with Kaboré's 1993 short film "A Tree Called Karite."
Other Kaboré films to be shown at the Harvard Film Archive in the Carpenter Center as part of the retrospective include:
"Madam Hado" (1992), a film portrait of a celebrated Mossi singer and dancer, Hado Porgho Léontine, Oct. 25, 9 p.m., and Oct. 29, 9:15 p.m.;
"Zan Boko" (1988), the story of one man's efforts to resist the transformation of his native village into an urban shanty town (screens with "Madame Hado," see above);
"Roger, Civil Servant" (1993), a short film about a young man whose fellow workers are threatened and alienated by his energy, efficiency, and enthusiasm, Oct. 26, 7 p.m.;
"Rabi" (1992), a film about a relationship between a young boy and an elderly man and the man's efforts to teach the boy important lessons about nature and family (screens with "Roger, Civil Servant," above);
"Chronicle of a Declared Failure" (1993), the story of a man who has just received a ministerial post and wishes to serve his country with honor and competence. Quickly, however, he is sucked into the quicksand of unproductive public servants and paralyzing alliances (screens with "Rabi," above);
"The Cora Player" (1996), a short film about the struggle of young lovers against class divisions and parental authority, Oct. 27, 7 p.m., and Oct. 30, 9:15 p.m.;
"Buud Yam" (1997), Kaboré's most recent feature film, which received the prestigious Etalon De Yenenga award at the Pan-African Film Festival in Ougadougou, capital of Burkina Faso. A sequel to "Wend Kuuni," it tells the story of a young man's journey to find a cure for his sister's illness (screens with "The Cora Player" above).Kaboré will appear in person at the screenings on Oct. 26, 27, and 30.