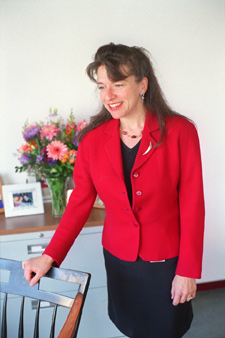 Harvard University's Dean of the Faculty of Arts and Sciences (FAS) William C. Kirby and Vice President for Alumni Affairs and Development Thomas M. Reardon announced that Beth Balmuth Raffeld has been named associate vice president and dean for development for the Faculty of Arts and Sciences.
"We feel extremely fortunate to have Beth join the Faculty of Arts and Sciences as chief development officer," said Kirby. "As we face the challenges of establishing new faculty positions, increasing financial aid to undergraduates and graduate students, and setting new academic agendas, Beth's leadership in fundraising and management will be critically important to Harvard's future."
"Beth's depth and breadth of experience make her a truly rare find," said Reardon. "I believe her talents are ideally suited to the task at hand."
As associate vice president and dean for development for the Faculty of Arts and Sciences, Raffeld will be responsible for all fundraising activity for Harvard College and the Graduate School of Arts and Sciences. She will report directly to both Kirby and Reardon.
Roger P. Cheever '67, associate dean for development for FAS, will continue in his senior management role, focusing his energies on raising principal gifts and working with the top alumni leaders.
"Since early 1998, overseeing the completion of the tremendously successful University Campaign, Roger has done an excellent job of managing the operations of the FAS development office in tandem with his principal gifts work," says Reardon. "We are enormously grateful to him for his willingness during the last five years to take on this administrative role in addition to his already demanding fundraising duties."
Raffeld comes to Harvard from the Combined Jewish Philanthropies (CJP) of Greater Boston, where she was vice president for development, having been recruited by CJP to direct their $330 million community and capital campaign. Before that, she devoted 13 years to Williams College, holding every major fundraising position within the organization, including director of development and director of principal gifts.
An alumna of Mount Holyoke College, Raffeld graduated cum laude with majors in English and music. Raffeld embarked on an extensive development career, first with Music of the Baroque Inc. in Chicago, working in all aspects of fundraising. She went on to serve the Chicago Historical Society as director of the annual fund, and was director of development for the Shakespeare & Company Theatre in Lenox, Mass., and associate director of major gifts for the Campaign for Smith at Smith College, before moving on to Williams. Raffeld has been a frequent presenter at national fundraising conferences.
A trained musician in classical singing and oboe, Raffeld maintains her interest in music, serving as a lay leader for The Center for the Arts in Natick, and as a board member for the Vermont Jazz Center in Brattleboro. She resides in Newton with her husband and two children.