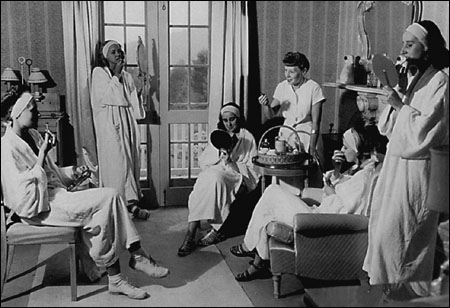 The first publisher of the signed Declaration of Independence was a woman.
A woman perfected the night flare and another turned indigo into a major cash crop.
Even Barbie represents a woman's work.
And when you look behind the media empires of Oprah Winfrey and Martha Stewart you find … Oprah Winfrey and Martha Stewart.
For 250 years, female entrepreneurs have occupied a significant, if largely silent, place in the history of American business.
A new exhibit developed by the Schlesinger Library of the Radcliffe Institute for Advanced Study, in partnership with the National Heritage Museum in Lexington, brings to life the stories of almost 40 of these businesswomen and charts our nation's changing attitudes toward women's work. The exhibit, "Enterprising Women: 250 Years of American Business," opens Saturday (Oct. 5) at the National Heritage Museum; it remains there until February when it embarks on a national tour.
"Enterprising Women" taps the Schlesinger's resources and its experience documenting women's history through its extensive collections of papers, books, and other materials.
"This project is a significant contribution to the Radcliffe Institute's mission and public outreach efforts, giving a public face to the sometimes highly specialized research undertaken within an Institute for Advanced Study," said Radcliffe Dean Drew Gilpin Faust.
With compelling biographies and artifacts – one of only nine existing copies of the first printed version of the Declaration of Independence, for instance, and the astonishing rags-to-riches story of African-American hair care pioneer Madame C.J. Walker – the exhibit invites more questions than it answers about the roles of gender, money, family, and the American dream across 250 years of history.
"We're always trying to think about whether there's a different profile for men and women entrepreneurs," said Jane Knowles, project manager for "Enterprising Women" and Radcliffe Institute archivist. "Do they enjoy the same risk-taking? Is it easier for men, because they don't have to be so consumed by their family obligations? What does success mean to women?"
Knowles and a team that included the staff of the National Heritage Museum, Tufts University history professor and former Radcliffe Institute fellow Virginia Drachman, and exhibit curator Edith Mayo worked for three years on the exhibit, culling materials from more than 75 institutions, including the Schlesinger. The exhibit drew on resources from libraries and museums around Harvard, and Joshua Basseches, executive director of the Harvard Museum of Natural History, served as project consultant.
The timing of "Enterprising Women" couldn't be better. In the 1970s, said Knowles, only five percent of American businesses were owned by women. By 1997, that figure was nearly 40 percent. Yet the exhibit encompasses a 250-year sweep of entrepreneurial history.
"It's very important for people to understand that the business life of this country always included women, not just from the 1960s, but from the 1750s," said Drachman, the Stern Professor of American History at Tufts and author of the book that accompanies the exhibit.
The female economy
Progressing chronologically, the exhibit showcases female entrepreneurs in settings that put their work in historical and cultural context. From the stories of women like Revolutionary War era printer Mary Katherine Goddard, beauty and fashion pioneers like Elizabeth Arden and Maidenform founder Ida Rosenthal, and 20th century businesswomen like Washington Post owner Katharine Graham and eBay CEO Meg Whitman, themes and trends emerge.
Women cleared tremendous societal, familial, and financial obstacles to launch their business ventures, said Knowles, noting that before the mid-1800s, married women could not own property. Until the last few decades, nearly all the women whose businesses were outside the "female economy" of fashion, beauty, and personal care had taken over an existing family business.
Yet these women were far more than corporate wives: Widowed at age 22, Martha Coston – using her late husband's experiments and contacts – invented the Pyrotechnic Night Signal, which gave the Union navy an additional advantage in the Civil War; Olive Beech, co-founder with her husband of Beech Aircraft, ran the company while her husband was sick and became its president after he died.
"Enterprising Women" brings new attention and credibility to the female-focused businesswomen of the 19th and 20th centuries, many of whom dedicated their businesses to making fashion and beauty accessible to an increasingly diverse consumer.
"I hope that one of the contributions of this kind of show is to exemplify and document that these were real businesses which had a real impact on the economy," said Knowles.
Barbie, bras, and potions
"Enterprising Women" richly illustrates the businesswomen's stories with objects from their lives and livelihoods. Among the exhibit's treasures are the original Barbie and Ken dolls, named for Mattel Toy Co. co-founder Ruth Handler's children; several early Maidenform bras; and bottles of Lydia Pinkham's herbal potion aimed at curing a host of "female complaints."
Contemporary entrepreneurs get a 21st century multimedia treatment. Visitors stand "in their shoes" – pictures of the women's shoes on the floor – and experience their words and images via video monitors. Their stories speak to the successes and continuing struggles of women entrepreneurs.
"There's the big unanswered question of what is to be done in the future, because it isn't a level playing field," said Knowles. "It's hard for women to get venture capital, it's harder for them to get government contracts. If we can get people thinking about that, that will be good."
"Enterprising Women," created with support from Ford Motor Company and AT&T, will remain at the National Heritage Museum until February 2003; it will travel to New York, Atlanta, Washington, D.C., Los Angeles, and Detroit through early 2005. For information, visit http://www.radcliffe.edu.