Though it may not have been as pretty as usual, the Harvard football team scored a perfect 10 this past Saturday (Sept. 21) at the Stadium, holding off the high-flying Holy Cross Crusaders, 28-23, to claim their 10th consecutive victory over two seasons. And in spite of the seven penalties for 55 yards, or the fourth-quarter nail-biting, Harvard opened its 2002 season exhibiting the same poise that marked last year's 9-0 campaign.
Up by 5 in the final stanza, the Crimson offense deftly denied 23rd-ranked Holy Cross possession for over 5 minutes. Led by sophomore quarterback Ryan Fitzpatrick, who took the reins from senior captain Neil Rose – sidelined in the third quarter after sustaining a high hit from the Crusaders defense, Harvard expertly converted a triad of third-down situations, draining the game clock to victory.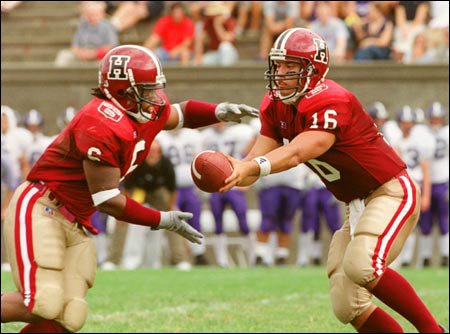 Prior to this keen ball management, Rose and receiver Carl Morris '03, who reeled in 11 receptions for 210 yards, conspired for 164 yards and a first-quarter touchdown. Harvard built a 21-7 lead at the half following Rose's seven-yard pass to tailback Nick Palazzo '03 and another five-yard toss to receiver Rodney Byrnes '05. After the break, the Crimson responded to a Holy Cross field goal with one last touchdown – a 34-yard grab in the end zone by Morris – to make it 28-10. Thanks to the defensive fourth quarter heroics of a poised Harvard offense, Harvard's last TD of the afternoon proved to be enough.
On defense, Buchanan Award candidate Dante Balestracci contributed nine tackles, a sack, and a forced fumble, earning the junior linebacker Ivy League Defensive Player of the Week honors.
Harvard travels to Brown (0-1) this Saturday (Sept. 28) to kick off Ivy play. Things get underway at 1 p.m.