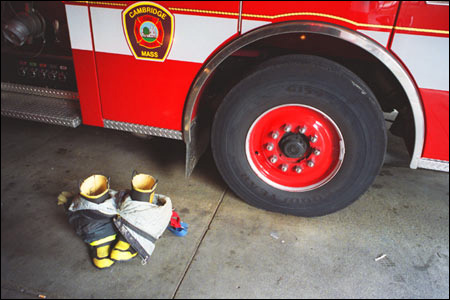 By Beth Potier
Gazette Staff
Staff photos by Kris Snibbe
Even before Sept. 11, professional firefighters enjoyed the glow of a heroic mystique. Stock characters in picture books and childhood stories, they've long captured the imagination of children and remained in our adult psyches as steadfast, brave men and women who protect our lives and property.
At the Cambridge Fire Department's Engine 8 and Ladder 4 station, at the intersection of Garden and Sherman streets (aka Taylor Square), the legend endures, tempered by the low-key, almost "aw-shucks" demeanor of the firefighters there. Relaxed in their down time, browsing the morning's paper, and preparing for the station's upcoming move for renovations, the eight men and women on each 24-hour shift are at the ready, their boots and coveralls waiting at the open doors to the trucks.
Joe Thorp, a firefighter for 34 years who has worked out of this station for 25 years, shows off the station's equipment: a ladder truck with a 105-foot ladder, an engine truck, and two training vehicles. He also debunks a few common myths. The station hasn't had a firehouse dog in many years, he said, and the ladder truck does not make kitty-rescue calls. Thorp recited a standard firefighter justification: "Have you ever seen a dead cat in a tree?"
Serving the area north of Harvard Square, including the nearby Radcliffe Quad, Law School, and Harvard-Smithsonian Center for Astrophysics, these firefighters are no strangers to Harvard property. Student cooking accounts for many visits to the University, said Lt. John Lund.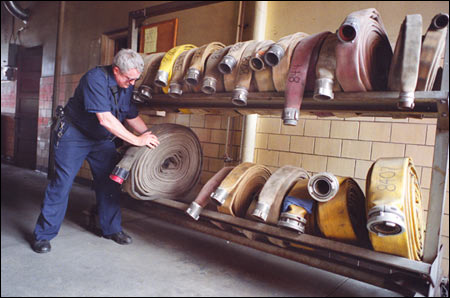 "Harvard is a very good college as far as helping us out," said Lund, adding that the University has spent significant dollars on systems that assist the firefighters. Lund has high praise, too, for Harvard's facilities and maintenance workers, who always meet his crew on the scene with the appropriate keys and deep knowledge of the buildings they're protecting. "Those guys do a great job."
In addition to Harvard, the station protects some of Cambridge's toniest properties, but that doesn't add to the firefighters' stress level.
"The more affluent the community, the less runs you're going to have," said Lund, noting that residents of multimillion-dollar homes generally take extraordinary care to protect them from fire.
"But when you do get a call, they say 'are you coming in here with those dirty boots?'" added Thorp.