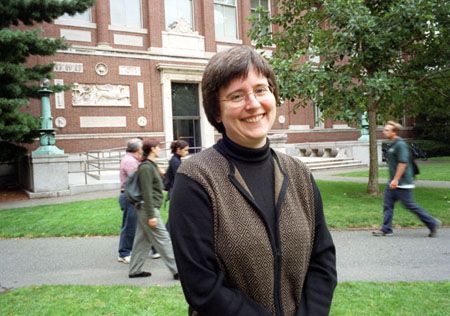 Professor of History Ann Blair is one of 24 MacArthur Fellows and the recipient of its $500,000 "no strings attached" grant, the John D. and Catherine T. MacArthur Foundation announced Tuesday (Sept. 24).
Blair, an intellectual historian who traces the influence of technological advances on the evolution of ideas during the Renaissance, is a 1984 graduate of Harvard College who has served on the faculty for eight years.
"I'm stunned," she said. "I had no idea I was under consideration."
When MacArthur Foundation President Jonathan F. Fanton called Blair in her Robinson Hall office to give her the news, in fact, it took a few moments for her to realize the magnitude of the call. She initially thought that she had merely been nominated and that the Foundation was requesting her curriculum vitae.
"Obviously, I'm delighted that people are appreciating what I consider to be dank and dusty scholarship," she added.
Harvard University President Lawrence H. Summers congratulated Blair. "Ann Blair's broad and deep knowledge of the history of science in Europe and of the scientific revolution reveals to us the deep roots of some of our own 'modern' dilemmas," Summers said. "She has shown that our fear of drowning in a sea of information has resonant parallels in the history of the printed word, and she has thereby shed light on both past and present. I am delighted that the MacArthur Foundation has recognized one of Harvard's most engaging teachers and promising scholars with this award."
"What a wonderful honor for Ann," said William C. Kirby, dean of the Faculty of Arts and Sciences. "I am extremely pleased that the MacArthur Foundation has recognized her extraordinary work in European intellectual and cultural history. We are very proud of the contributions she makes to our students and to the wider intellectual community."
While the historical context of Blair's work, early modern Europe, may seem "dank and dusty," her research speaks to a very contemporary issue: information overload. Blair explores how scholars managed the phenomenon in an era that long predated search engines or databases. She suspects that it's this 21st century relevance that brought her to the attention of the MacArthur Foundation.
"I'm interested in what tools scholars devised – intellectual tools, practical tools – to process work, to process text," she said. In the 16th and 17th centuries, those tools ranged from notebooks with notes pasted into them to boxes for storing little slips of paper to charts and graphic arrangements of information. Sources were catalogued alphabetically or by subject.
"It's a very new kind of approach to intellectual and cultural history," she said.
On leave from her position at Harvard last year, Blair worked on "Coping With Information Overload in Early Modern Europe" (working title), to be published by Yale University Press.
Her 1997 book "The Theater of Nature: Jean Bodin and Renaissance Science" is an original analysis of the "commonplace" book of a leading Renaissance humanist, constituting his compendium of the natural world.
Blair has no specific ideas about how she'll spend her money, which comes in $100,000 increments over five years. "I'm still reeling from the discovery of this windfall," she said.
Committed to furthering scholarship in this field, she may mount an academic conference. Working from sources that are rare, Blair's research rings up travel expenses; her "Information Overload" book took her to Paris and Switzerland. And owning original texts, which are extremely expensive, is suddenly a dream within reach.
"My response has always been 'it's impossible,' but now I can revise that," she said.
Blair received a Ph.D. from Princeton University and was a lecturer in the history of science at Harvard from 1991 to 1993. She also served as an assistant professor in the history department at the University of California, Irvine. She returned to Harvard as an assistant professor and also served as John L. Loeb Associate Professor of the Social Sciences before becoming professor of history in 2001. In 1998, she received the Radcliffe Junior Faculty Fellowship.
This year's MacArthur Fellows run the intellectual and creative gamut from botany to bluegrass, Renaissance to robotics. They are selected by anonymous nomination – there is no application or interview process – and they receive $500,000 over five years to use as they see fit.
"We are committed to nurturing those who are a source of new knowledge and ideas, have the courage to challenge inherited orthodoxies and to take intellectual, scientific and cultural risks," said MacArthur Foundation President Jonathan F. Fanton. The Fellows Program supports "individuals who lift our spirits, illuminate human potential, and shape our collective future," he added.
Blair brings to 38 the number of Harvard faculty members to receive MacArthur Fellowships. In addition to Blair, Harvard College alumni Paul Ginsparg '77, professor of physics and computing and information science at Cornell University, and novelist Colson Whitehead '91 are among this year's fellows.