One can imagine that for Harvard football coach Tim Murphy, this past June's graduation ceremony wasn't an entirely joyous affair. Murphy, who guided the Crimson to a perfect 9-0 campaign last season – the first such run in nearly 90 years – witnessed the departure of 13 of his starting players to the real world. Included in the exodus were tailback Josh Staph (who rushed for 506 yards last season on his way to eight touchdowns), receiver Sam Taylor (who managed 382 yards on 22 receptions), and defensive-backs Andy Fried, Eric LaHaie, and Willie Alford (who collectively made 114 tackles and five interceptions).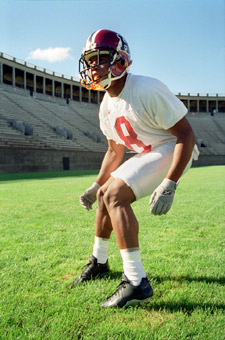 It is at the line position, on both ends of the ball, where the Crimson were hardest hit. All told, the reigning Ivy Champs lost eight starting linemen, including All-Ivy sack specialist Marc Laborsky. Yet despite the loss in personnel, the Crimson remain more than a frivolous bet to repeat as league champs, as evidenced by a preseason media poll that favors Harvard to top the heap in 2002. Indeed, with the core offensive combo of quarterback Neil Rose '02-'03 and receiver Carl Morris '03 still very much intact (the two connected for 10 touchdowns last season), Harvard's 1-2 punch provides plenty of formidable firepower for another successful run.
On the attack
As captain of this year's squad, Rose will look to continue his highly efficient pass delivery – 127 of 198 passes (64 percent) – in which he ranked fourth nationally last season. And at 260 yards per game, Rose ranked 19th nationally in total offense, throwing for 1,830 yards and scoring on five runs. Sophomore Ryan Fitzpatrick, who excelled in place of an injured Rose in two consecutive games last October, is a reliable backup. Then again, receiver Morris, a third team AP All-American, makes it nice and easy for Harvard's playcallers. Last season, Morris set school single-season records with 71 receptions, 943 yards, and a dozen touchdowns. With a season to go, Morris holds eight of Harvard's nine major receiving records – including career catches – with 155.
By land, Harvard will utilize tailback Nick Palazzo '03, who managed 556 yards and seven TDs last fall despite missing a third of the season to injury (a healthy Palazzo racked up nearly 750 yards in the 2000 season). Sophomores Ricky Williamson and Nick Carrington, and Rodney Thomas '02-'03 will round out the running attack.
Returning to the starting spot at right tackle, Jamil Soriano '03 gives the Crimson line, which finds itself four starters short from last season, some valued experience in the trenches. Flanking Soriano are right guard Dan Weidle '03, center Joe Price '03, left guard Joe Traverso, the lone junior of the bunch, and 6-foot-6-inch 300-pound senior Jack Fadule, who clocked in some starting minutes last fall at left tackle.
Defending the fort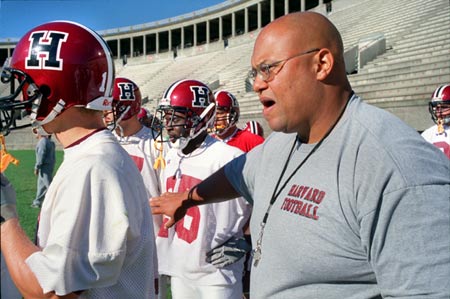 Despite the departure of seven starters, Harvard's D remains confidently anchored by a trio of returning first teamers – all at the linebacker position. Marquee performer Dante Balestracci '04, who paced his team last season with 58 tackles, two pickoffs, six pass breakups, and a pair of blocked kicks, will again monitor the middle spot. Former free safety Niall Murphy '03 and John Perry '03, with 43 and 39 tackles in 2001, respectively, will man the outside.
On the line, left-end starter Mike Armstrong '03 will aim to better his solid 16-tackle output of last season, when he split duties as part of a three-man rotation. At the tackle spots, upperclassman Jesse Brush '03 and Brendan McCafferty '04 will add depth and experience.
The secondary, which looks to rebuild after losing three All-Ivy honorees, will find solid numbers – and leadership – from returning corner Ben Butler '04. Butler had 39 tackles last season, on top of two pass breakups. Xavier Goss '03 will start at free safety, having earned the spot last season with 13 tackles.
Special forces
Anders Blewett will resume duties as the Crimson's place-kicker. The senior hit all 23 of his extra point attempts last season, and half of his four field goal tries. Adam Kingston '04 will return to the punter position, where he averaged nearly 39 yards per punt on his way to receiving All-League Honorable Mention honors. Sophomores Byrnes and Ricky Williamson will share return kickoffs, while Morris will return punts.
"This is a brand new team, which will take on a chemistry of its own," explains Murphy. True, but Harvard's wildly successful formula remains the same: "Last season is a model to emulate from the standpoint of the ability to handle adversity and upperclassmen stepping up and playing the very best football of their careers."