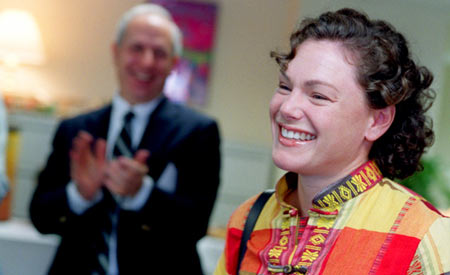 Meeting two bears was scary, but the zillions of mosquitoes was worse. The mountains were difficult to get over on a bicycle and the cornfields were drudgingly monotonous. Then there were the headwinds, heat, and flat tires.
But best of all were the people that Rosalie Parker '96 met on her 57-day, 4,166-mile bike trek from Seattle to Washington, D.C. "I didn't meet one bad person on the whole trip," she says. "Everyone was kind and generous, especially those who let me stay in their homes."
Rosalie, 28, broke no records; she never intended to.
"I dedicated the ride to my cousin Max, both in celebration of his success at overcoming a severe mental illness and in recognition of his strength in traversing a difficult path," she explains. "Max is a year older than I am, and we were always close growing up. When we were both in high school, he was hospitalized with his first bout of psychosis. Today, he has a B.A. degree from Tufts University, holds a job, and continues to beat me on the tennis court."
Earlier this year, Rosalie got the idea of biking across country to increase awareness of treatment needs for people like Max and to raise money for a charity with this same goal. Max quickly suggested Waverley Place, a care and support program attached to McLean Hospital in Belmont, a psychiatric teaching facility affiliated with Harvard Medical School. Max works there as a peer counselor.
"I love Waverley Place," Max says. "The program focuses on the needs of each individual rather than the traditional approach of weaving a person into the framework of an established program. It may be the only place in the country that does this."
Overcoming depression
Max knows the problems that such people face from his own experience. "When I was 18 years old, in high school in Tulsa, Oklahoma, I became really depressed," he recalls.
After seven months in the hospital and many turbulent years, Max got his illness under control with the help of the anti-psychotic drug clozapine. He moved to Massachusetts where Rosalie's family lives and began attending Tufts University. In 1999, he graduated with a major in English and a minor in Japanese. After a series of unsatisfactory jobs, he went to work at Waverley Place last January.
"I didn't have access to good transitional care when I left the hospital, and was very impressed by the support given to people at Waverley Place," says Max. His job includes everything from helping people with their social skills and grocery shopping to just talking and eating lunch with them. He even works extra hours without pay.
If cousin Rosalie wanted to raise awareness and money for those with severe mental illnesses, Waverley Place, Max assured her, was ideal.
And Rosalie was ideal for the task of biking. A natural athlete, she won the U.S. women's amateur flyweight boxing championship in 2000. She also plays ice hockey. Still, it took a lot of time and energy to get ready to bike more than 4,000 miles.
McLean Hospital established a Web site and Rosalie asked for pledges. "Give $25 and get a postcard from somewhere in America," she promised. "Give $100 and receive a signed copy of my adventures, told with little regard for the truth. Give $1,000 and I will tattoo your name on my body. Just kidding."
Visiting bears and relatives
The trip began on June 15 in Seattle. Rosalie carried 40 pounds of gear on her bike, including maps, a spare tire, and a tent. She rode mostly on rural roads that passed though smaller towns in 12 states. She traveled alone for most of the trip, overnighting in campgrounds, motels, and a few private homes.
Rosalie's younger sister, Clare, a 1999 Harvard graduate, met her in Missoula, Mont., and rode with her through most of that state. They biked over Logan Pass, which is 6,646 feet high, and into Glacier National Park, where there was still snow on the ground. The most memorable moments of that part of the trip involved separate encounters with two bears, a black and a grizzly.
"Both were within 50 yards of us," Clare said in a phone call. "While beautiful from a distance, we decided to pedal a little faster rather than try to see them closer."
Rosalie felt sad when Clare had to leave in eastern Montana. "We had been frozen, windblown, baked, and drenched," Rosalie said. "But we both loved every minute of it, even the two hours it took us to climb six miles uphill out of St. Mary, Montana."
The straight, gently rising and falling roads of the northern Plains presented different challenges. On July 9, Rosalie wrote, "Three days of battling a strong east wind, as high as 25 mph, have slowed me down to 7 mph from my usual 15 to 17 mph on the flat."
Rosalie's parents, Leroy and Winifred from Wayland, Mass., joined the ride on July 12. He graduated from Harvard in 1965, she in 1966. Before they left on July 20, the three spent a day fishing in North Dakota and celebrated Rosalie's 28th birthday with a fish dinner. "My parents were real troopers," she comments, "biking 60 miles a day in a terrific heat wave."
In Iowa, Max joined Rosalie, along with his father, Jody Parker. "I'm not in condition to bike like that, but Rosalie and my dad, who is 54, averaged 70 miles a day," Max noted. He drove a support car, and Rosalie enjoyed the luxury of cold drinks and snacks rather than just the usual peanut butter sandwiches. "I had a ball," Max commented. "It was nice to be part of the ride like that."
On Aug. 5, Rosalie reported that, "I've zipped through the rest of Iowa, zagged through Illinois, and zoomed across Indiana seeing nothing but mega corn and soybean fields. It's funny; although the farms show how fertile the soil is, the scene somehow seems barren and desolate. I call it the åcorn desert.'"
During the last few days of the trip, Rosalie pedaled more than 100 miles each day. She arrived home in Washington, D.C., on Aug. 12 after traveling almost 140 miles that day. There was no crowd to greet her, no wild cheering. She remembers being "muddy, exhausted, and exhilarated. I learned so much about America. My faith in people has been renewed. I have new concerns about whether this will still be a wonderful place to live in 20 years from now, but I do believe that people want to do the right thing."
Those who are now being helped at Waverley Place, together with the facility's staff and officials, thanked Rosalie at a small ceremony on Sept. 9. She raised more than $20,000 on their behalf. The bicycle trip "was incredibly easy to do for such wonderful people," Rosalie told them.
Privately, she said that she was a "little embarrassed" by the attention. "But I'm happy that the ceremony brought everyone together and made us all feel good for a few hours."
Rosalie now works for the dean of international studies at Johns Hopkins University. She doesn't expect to be there too long, wanderlust still drives her. I'd like to get a job with the State Department that involves working overseas," she says. "Hopefully, my next adventure will combine my love of travel and the chance to do something useful in international affairs."
For more details, see http://www.mcleanhospital.org/. Click on the bike icon.