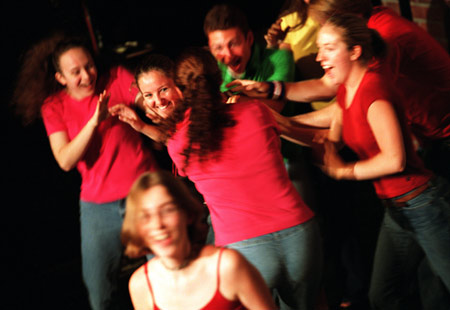 Skritch, skritch, skritch.
The room high in the Carpenter Center is quiet except for the scratching of charcoal on paper, the sound accented by the room's high ceilings and concrete walls. The clear studio lighting also seems to amplify the sound somehow. Or perhaps the amplification comes from the students' silence.
Eleven participants in Harvard's Freshman Arts Program stand at large easels arranged in a circle around a pile of driftwood. Still, except for their heads and hands. Look at the driftwood. Look at the drawing. Mark a bit here. Smudge. Mark some more.
Skritch, skritch.
Visiting Lecturer on Visual and Environmental Studies Paul Stopforth abruptly breaks the silence, telling the students to rotate two easels to the right and take over that student's work.
Hesitantly at first, as if unsure they've heard right, the students step to the right and begin, first marking lightly, then more darkly. Stopforth, meanwhile, has rearranged the driftwood into a different pile and walks around the room exhorting the students past their initial hesitation.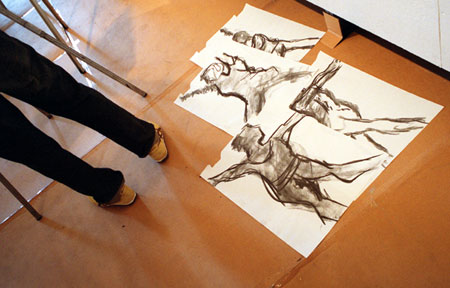 "Draw over the others," he says. "The media, the charcoal, is fluid," he adds, explaining that charcoal draws differently when used at its tip, flat on its side, with hard pressure, with light pressure.
"Try and sense this tool as something that is extraordinarily flexible," Stopforth says.
After a few minutes, Stopforth rearranges the driftwood pile again and directs the students to their right to take over an increasingly confused image of lines, smears, and spaces.
"It's going to become increasingly abstract. It's important to accept that and push it," he says.
After three changes, the procedure is old hat; the students move smoothly to the next easel, immediately appraising the new image before them and the rearranged pile, and considering what they can add.
"The purpose of this exercise is to become aware of and engaged with the act of drawing and the tool you're using, not in your ability to convey an image," Stopforth says.
The Carpenter Center scene was just one of several taking place across campus during September's first week as the Freshman Arts Program (FAP) marked its eighth year by immersing another class of 40 incoming freshmen into Harvard's arts scene.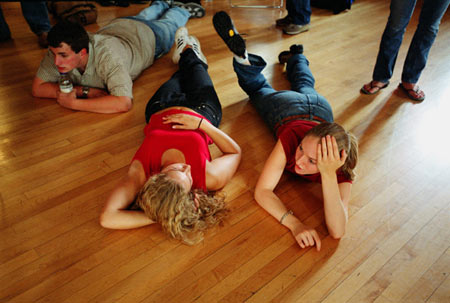 Founded in 1995 by FAP Program Director Alan Symonds, the program aims to introduce students to the Harvard artistic community, expose them to new artistic endeavors, and make them new advocates for the arts at Harvard.
The students, including those in Stopforth's drawing class, try their hands in a variety of arts – drawing, photography, dance, music, painting, theater, and film. At the end of the program, students show their work in an exhibition and pageant, held this year the weekend of Sept. 14.
In Stopforth's class, the exercise ended after the students were told to return to their original places to work again on that image before a transformed pile of driftwood. Once done, they pinned their images to the wall and discussed what Stopforth called "this strange kind of pile, this funeral pyre."
What the students couldn't see was the model waiting on the other side of the wall. Their next Freshman Arts Program assignment already awaited them. – Alvin Powell