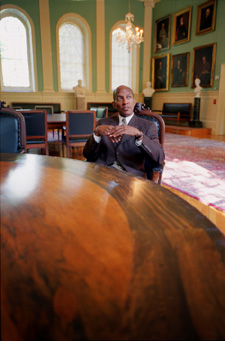 Robert Mitchell has been named the director of communications for the Faculty of Arts and Sciences (FAS) by FAS Dean William C. Kirby.
Kirby said Mitchell, 51, brings a host of skills that will help the Faculty of Arts and Sciences effectively convey the depth and breadth of its operations.
"Bob brings wide-ranging experience from the worlds of education, the arts, government, and commerce," Kirby said. "I am pleased he can help us share the goals, values, and achievements of FAS with others. I look forward to working with him in the years ahead."
Mitchell, who grew up in East Orange, N.J., has worked at several colleges during his career, including jobs as communications director at Brandeis University, Stevens Institute of Technology, and Hahnemann University. He also worked in the communications office at the University of Pennsylvania and served as an adjunct professor teaching public relations in the School of Journalism at Northeastern University.
Mitchell's experience also encompasses posts outside academia, including press secretary to the mayor of Philadelphia, director of public relations and marketing at the Museum of Fine Arts, Boston, as well as senior communications positions with Nike and the Big Brother Association of Greater Boston. For the past year, he worked as a consultant in his own firm, RPM Communications in Boston.
Mitchell said he is excited to be back in an academic environment, which he has always favored. He particularly enjoys interacting with faculty, learning about – and telling others about – their interesting work. He also enjoys dealing with students and being able to convey their energy and ideas to outside audiences.
"Coming back to an academic environment had a huge appeal to me. And what better place than Harvard?" Mitchell said. "It's always stimulating in terms of diversity, scholarly output, the exchange of ideas, the interaction between myself and the people coming up with these ideas. I live vicariously through them."
Mitchell said his focus will be to increase the delivery of positive messages in the media about things going on at FAS. He said he also hopes to act as an adviser to those in the FAS who want to get the word out about their work, program, or discovery.
"There is an enormous amount of exciting, powerful, impactful research going on here," Mitchell said. "We want to get the media focused on research that will make life better for the broader public."
Mitchell started in his new post in late August and said he's still learning how things work here at Harvard.
Mitchell received a bachelor's degree in sociology at Quinnipiac University in 1973 and a master's degree in journalism from Syracuse University in 1975. One thing his Syracuse experience left him with was an enthusiasm for athletics, particularly football, he said. He brings that enthusiasm to his new home.
"I am really excited about Harvard athletics. I will be at every football game," Mitchell said.