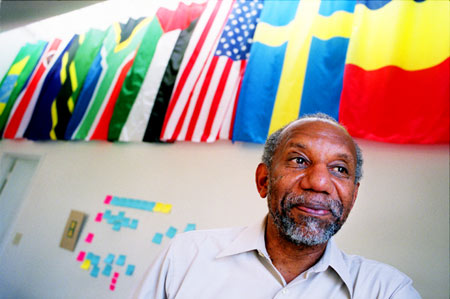 Psychiatrist Felton Earls has been selected to head the Harvard South Africa Fellowship Program, replacing Anthony Appiah, who left the University at the end of the spring term.
The Program was founded in 1979 to address the needs of South Africans who were denied access to advanced education because of apartheid. It is still intended for those South Africans who are educationally disadvantaged by past law and resource allocation. The program is funded by the President of Harvard and the individual Harvard schools which the fellows attend.
"The University is privileged to have Tony Earls lead the South Africa Fellowship Program," said University Provost Steven Hyman. "Tony brings deep commitments to Africa and to social change to this new role. He has worked in southern Africa for many years and is a leading scholar of the roots of antisocial behavior in urban America. I am looking forward to working with Tony on the program which has made Harvard accessible to talented South Africans for more than two decades."
In response to the appointment, Earls said: "I'm very excited and pleased to be the director of the South Africa Fellowship Program. The program's uninterrupted 20-year-plus history of bringing South Africans to Harvard is a great accomplishment. Now the issue is to take it to the next level. I look forward to doing that."
Earls is professor of social medicine at the Medical School and professor of human behavior and development at the School of Public Health. He directs the Project on Human Development in Chicago Neighborhoods, a major, interdisciplinary study aimed at deepening society's understanding of the causes of juvenile delinquency, adult crime, substance abuse, and violence.
Earls has studied behavioral problems in preschool children, the mental health of children of alcoholic parents, risk factors for violence and HIV infection in adolescents and young adults, and international aspects of child and adolescent mental health. He is a fellow of the American Academy of Arts and Sciences and a member of the Institute of Medicine of the National Academy of Sciences.
Earls said he agreed to head the program because of his long-time interest in democratic transitions, health care, and the links between human and economic development. His participation in the anti-apartheid struggle was also a factor in his decision to take on the new responsibility.
"I first met Nelson Mandela a few months after he was released from prison, and I participated in his visit to Harvard in 1998. Those two experiences made me say yes to the provost when he asked if I would like to direct the program," Earls said.
Earls also believes contributing to South Africa's development at this time can have an impact on the continent as a whole.
"Africa is at a crossroads now, and South Africa is strategically important to the progress the region makes over the next few years. The investments we make in the South African economy and human development will have great repercussions for Africa in general."
The South Africa Fellowship Program brings an average of six fellows to Harvard each year, providing educational enrichment for men and women in mid-career. Representing a variety of occupations, the fellows are individuals who have shown considerable skill in their chosen fields and are expected to benefit from advanced training. Fellowships are for a year of study in any of Harvard's many schools. More than 120 South African fellows have studied at Harvard under this program since its inception.