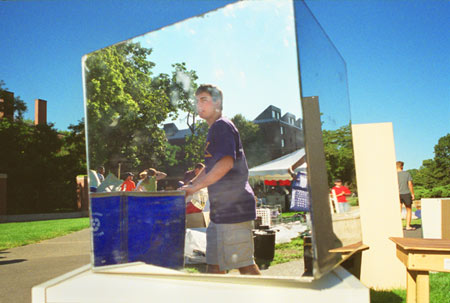 Harvard Habitat for Humanity helped incoming freshmen furnish their new homes on the cheap with its annual Stuff Sale Sept. 7-9. Habitat spread its wares – tangles of lamps, pyramids of stacking crates, rugs, and furniture already recycled to within an inch of its life – in front of the Science Center, capturing the attention and dollars of students and parents en route from the costlier business of purchasing computers and cell phones.
Harvard Habitat for Humanity, which offers students the opportunity to help build affordable housing, collected four trailers full of cast-off dorm decor from students moving out last spring, according to Stuff Sale coordinator Tim Li '03. At rock-bottom prices, merchandise quickly recycled itself into the next generation of dorm rooms.
"I won't have to go to Target now," said Jake Welch '06, from Buena Vista, Ga., as he surveyed his $18 stash, which included a rug, some shelves, and a trash can. He and his six Greenough suitemates had compared belongings and divided responsibility for purchasing the additional comforts of home.
"We brought the whole house, but there's still stuff he didn't have," said his father, Kim Welch, in awe.
– Beth Potier