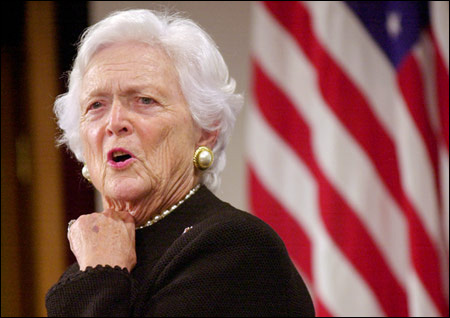 With her characteristic candor and wit, the popular former first lady Barbara Bush provided glimpses of her famous family and offered up a few of "Life's Lessons" to an admiring crowd at the ARCO Forum Thursday (Sept. 19) night.
Bush, the wife of the 41st president of the United States, George W.H. Bush, challenged audience members to embrace life. "Don't be too timid. Try new things. Sing, dance, and have some fun," she said. "No one will notice if you can't do it well."
She also urged the forum audience to get involved. "I'm here today because I want you to volunteer," Bush said. "One way to overcome September 11 is to take an active part in life now. Don't keep waiting for that big moment. The moment is now," she said. "Our heroes are the people who go to work every single day and then go home and reach out to their neighbors and friends."
Bush spoke with ease before the full crowd, expressing more than once her pleasure at being at Harvard. After a second questioner spoke of his admiration for her husband and son, Bush responded that it wasn't necessary to preface questions with kind remarks about her family. If you do that, she said self-deprecatingly, "We'll be here all night." After one student told her he'd promised his mother he would be sure to look for the former first lady's necklace, Bush good-naturedly showed off her signature pearls to the audience.
But Bush resisted questions from the audience about her political views, insisting that the role she played in politics was a supporting one. When asked if she had ever disagreed publicly with any of her husband's policies, Bush replied emphatically, "Never." Call it a "generational thing," she said, adding that she didn't believe it was her job to speak out on policy. "I have never been in government," she said later in the evening.
The future for women in politics, however is a bright one, said Bush, predicting that we would see a woman president in the near future. "I expect to see her and I'm 77 years old," she said, but not before adding one caveat: "I happen to hope you elect a male governor of this state," referring to Massachusetts Republican gubernatorial candidate, Mitt Romney.