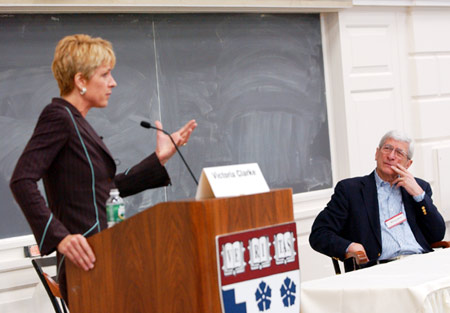 This fall, students in Deb Harmon's advanced placement English class will be getting involved in politics in their hometown of Defiance, Ohio.
Beverley Kingma's Latin students in Glendale, Wis., will ponder how ancient Romans might have dealt with 24/7 news channels.
In Eau Claire, Wis., Cindy Johnson will have her English class write letters to the editor of the local newspaper.
Harmon, Kingma, and Johnson were among 125 secondary school teachers who explored "The Media & American Democracy" at the Graduate School of Education (GSE) from July 21-27.
The program, jointly sponsored with the Joan Shorenstein Center on the Press, Politics and Public Policy at the Kennedy School of Government (KSG), gave teachers from around the country a week with media and political luminaries such as former Massachusetts governor and presidential candidate Michael Dukakis, former New York Times columnist Anthony Lewis, and Time and former LIFE essayist Hugh Sidey.
The program aims to help secondary school educators teach the complex ideas associated with the role of media in our democracy. To inspire their students to become better educated, more involved citizens, teachers develop up to three curriculum units based on the class sessions and panels they attend during the week.
"My brain hurts," said Bob Soule of East Lansing, Mich., toward the end of the week. "They're keeping us extremely busy with all these world-class thinkers and provocative arguments."
Harmon, a self-described news junkie, was abuzz over a lunchtime discussion with journalist and commentator Ellen Hume. "That just doesn't happen in my world," she said.
While the participants may not have had much time to explore the bookstores and coffee shops of Harvard Square, they did hear plenty of real-world stories and engage in bracing discussions on issues ranging from campaign finance reform to the war on terrorism, all through the lens of American media.
A responsibility to today's youth
"The media is a central, inescapable and growing force in American political life," said Marvin Kalb, director of the Washington office of the Shorenstein Center and co-chair and co-founder of the Media & American Democracy Institute with Janice Barrett Ed.D. '96, associate professor at Boston University College of Communication. Linda Greyser, associate director of the GSE's Programs in Professional Education, also helped in the design and funding of the program.
"Young people today cannot know about their society and cannot honestly participate in the governance of their country without the appreciation of the intersection of press and politics," Kalb added. "We thought that maybe we have an opportunity … indeed, a responsibility, to try to reach out to this crucially important element of American society."
Funded by the Knight Foundation as well as AOL Time-Warner Foundation and General Motors Corp., the Media & American Democracy Institute is tuition-free for its participants, a geographically diverse group of high school and middle school teachers selected from hundreds of applicants. Now in its sixth year, the institute has spun off satellite workshops at the University of Texas, the University of Southern California, the University of Missouri, Syracuse University, and the University of Miami.
War stories
On July 26, the last full day of the institute, panels focused on war, giving both journalists' and government's perspectives. From discussions of freedom of the press to hot-button debates over the public's right to know versus national security and the issue of speed trumping accuracy, the morning provided food for thought and fodder for lesson plans.
Former ABC News correspondent Barrie Dunsmore, "Frontline" senior producer Michael Kirk, "Inside Edition" reporter Matthew Meagher, and former ABC News correspondent and Boston University Professor Bob Zelnick told war stories – literally – from Vietnam to Afghanistan.
Meagher, a public school teacher for six years before he "went to something easy like documenting wars," joked moderator Zelnick, recently spent three months in Afghanistan and Pakistan. He described the government's tight control over the media, which limited reporters' official access to war operations. "It was very, very difficult to cover a stealth war," he said.
"The wars of the future will be very carefully managed by the Pentagon, not only militaristically, but journalistically," he said. "You're going to see more reporters die because we're going to have to take it upon ourselves to get to where the action is."
Such reporting, however risky, is crucial to a free press, the correspondents said. "We have to have this, in order to keep our society free and to keep an eye on the military and political leaders," said Dunsmore.
The teachers, savvy after days of immersion in media issues, asked hard-hitting questions about objectivity, how much to show their students, and how reporters manage issues of national security.
"It's such a balance: what do you report, what do you know … what is your patriotic duty as a reporter?" said Kirk. "There are guidelines, but most of them are personal."
Victoria Clarke, assistant secretary of defense for public affairs under Secretary of Defense Donald Rumsfeld, represented the government's point of view in the war-within-a-war the journalists described. Understanding that her audience might not be friendly to her side of the story, she said she agreed to speak to the group out of her respect for teachers and in part because "I'll do whatever Marvin Kalb tells me to do."
Warm and funny, Clarke peppered her talk with personal stories but stuck to a carefully crafted message point: this war on terrorism is an unconventional war and demands unconventional media access. Most of the Pentagon's major decisions, she stressed repeatedly, are made "way above my pay grade."
"We did a whole lot," she said, describing efforts the Pentagon made to give reporters access to the war. "I'm the first to admit that from the media perspective, it wasn't enough."
This tension between the government and the media is healthy, she said. "If we ever reached the place where we did everything the media wanted or the media did everything we wanted we'd probably be living in the Soviet Union," she said.
Eyewitnesses to history
Amidst the intellectual discussions and lesson plan brainstorming, journalists treated the teachers to eyewitness accounts of many of the major events from the past 50 years.
Anthony Lewis, a two-time Pulitzer Prize winner and recent Shorenstein fellow, told personal tales of Supreme Court Justices Hugo Black and Thurgood Marshall and of covering the presidential campaigns of Lyndon B. Johnson and Jimmy Carter.
"Inside Edition's" Meagher shared fresh stories from Afghanistan and showed a chilling videotape of smoke-choked reporting from the World Trade Center collapse. Former ABC News correspondent Dunsmore, who witnessed the evacuation of Vietnam and the razing of the Berlin Wall, drew on his experiences.
During a field trip to the John F. Kennedy Museum in Dorchester, a highlight for many of the teachers, Time's Hugh Sidey spoke about reporting on every U.S. president since Eisenhower, including Kennedy.
For Michigan teacher Soule, summer learning doesn't get much better than Sidey's talk. "For Chrissake, he was in the car behind Kennedy in the motorcade in Dallas," he said.