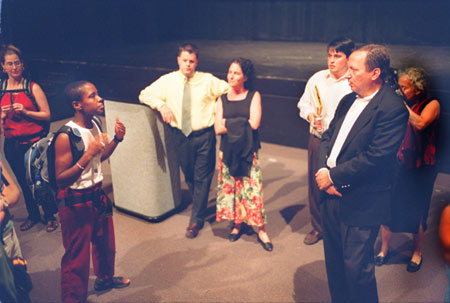 President Lawrence H. Summers visited Cambridge Rindge and Latin School (CRLS) Aug. 2, to congratulate the nearly 300 high school students about to graduate from the Cambridge-Harvard Summer Academy (CHSA).
"There's no one in this room who can't be a great success," Summers told the students. For most of them, it was a distinct lack of academic success during the school year that landed them at the Summer Academy.
After six weeks under the careful tutelage of intern teachers from the Harvard Graduate School of Education's (GSE) Teacher Education Program, however, students were in a position to believe Summers' cheerleading.
"I failed geometry as a freshman, but this summer I got an A+," said Zenith Hamilton of Cambridge. "I love the teachers. They helped a lot."
Veronica Zabalu, who, like Hamilton studied geometry and world literature at the Summer Academy, was also upbeat. "You get a lot of individual focus," she said.
---
"There's no one in this room who can't be a great success."
Lawrence H. Summers
---
Launched last summer, the Cambridge-Harvard Summer Academy increases the teacher-student ratio by putting GSE student interns into summer school classrooms with experienced mentor teachers. With more teachers providing individual attention, summer school students have soared academically, often for the first time.
"We had kids this summer who finished an academic class for the first time in two or three years," said CHSA principal Frank Honts, a CRLS teacher during the school year. "That's monumental. That's when it gets really magical."
Harvard benefits, as well, by providing GSE students with a gentle entry into the classroom.
"My mentor was fabulous, and the kids were great," said TEP student Rachel Merrell, a biomechanics researcher before entering the midcareer math and science program at the GSE. "The kids taught us so much."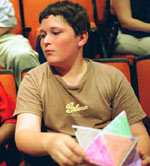 Summers, who faced an animated audience moments before they were sprung from summer school, commanded immediate attention with facts culled from his days as secretary of the treasury. High school graduates will earn $300,000 more during their lifetimes than those who do not graduate from high school, he said. College bumps the figure up to $600,000.
"There's not much that's going to have as much influence on what your life is like, what your opportunities are, the kind of house in which you live, how hard a job you have to do, how much fun it is … as what kind of education you get and how much you learn," he told the students.
"I'll be especially happy the day we have more and more students from the city of Cambridge who are enrolled at Harvard," he added.
As the summer school students left to enjoy a graduation barbecue, Summers met briefly with students and administrators from the GSE. "Is the University giving you what you need in this program?" he asked.
Heather Harding, a GSE doctoral student who serves as the Harvard coordinator of the CHSA, suggested that the program needs to perpetuate the supportive relationships between the high schoolers and the GSE students who coached them to success. CHSA principal Honts reported that such a program is being piloted at CRLS during this coming school year.
"It's an important part of what the University needs to do," concurred Summers.