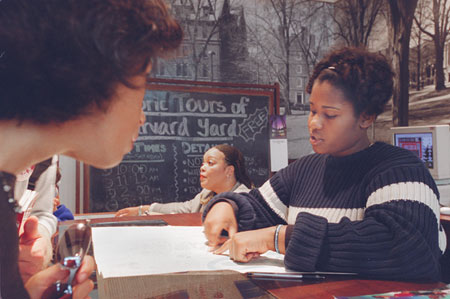 Nelda Pierre, a rising senior at Cambridge Rindge and Latin School, fielded questions from tourists ('Where's the Coop?' 'When's the next tour?') on Tuesday (Aug. 20), one of her final days as a summer employee in the Harvard Events and Information Center. Harvard's Summer Teen Employment Program (STEP) filled 92 summer positions around Harvard – including Pierre's – with teens from Cambridge and Boston public schools. STEP eased the students' way into the world of work with seminars and social events.
For Pierre, who plans to study business in college before opening her own beauty salon, the job boosted skills she'll tap in the future. 'You have to be able to talk to people and know what they need,' she said.
Pierre gets high marks from her supervisor, Events and Information Center manager Robin Parker (pictured in background), who has hired STEP students for several years. 'The great thing [about STEP] is that Harvard extended itself out to the community to say, "This is what it's like inside these walls. You can be here,"' Parker added.