The 70-foot "sandscape" mural that decorates the main corridor of the Science Center is looking brighter these days, thanks to a retouching of the original colors by the artist's daughter and grandson.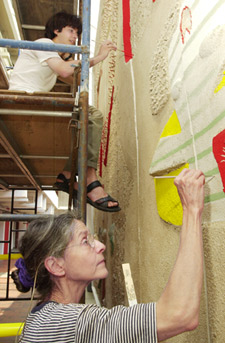 Claire Nivola '69 ('70) and her son, Anther Kiley, spent a week in July going over the faded colors with latex-based pigments matched to the originals. If anyone knows what those colors used to look like, it's Nivola. She helped her father install the mural in 1972. Today, she writes and illustrates children's books.
The brilliant yellows, reds, and greens make the mural a lot harder to ignore, which is exactly what the artist, Sardinian-born Costantino Nivola (1911-1988), intended.
Originally housed in the New York display room of the Italian typewriter manufacturer, Olivetti, the mural was designed to be seen from farther back. When the showroom closed, Nivola, who had taught at the Graduate School of Design, offered the work to Jose Luis Sert, designer of the Science Center. To make the shapes stand out more clearly in the narrow corridor, Nivola added color.
"The mural was so badly faded, it was hard to figure out where the colors were," his daughter said, dabbing a loaded brush on the rough surface. "It took a little bit of guesswork, but we tried not to go too far afield."