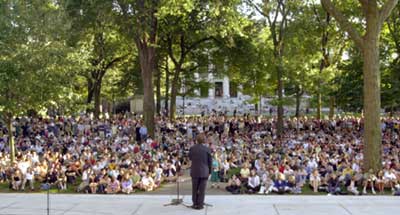 On the anniversary of the Sept. 11 tragedy, Harvard University will hold a ceremony of remembrance in Tercentenary Theatre. Harvard University President Lawrence H. Summers will deliver the day's main address, reflecting upon the year since terrorist attacks in New York, Washington, and Pennsylvania killed thousands. Students will read passages from a number of religious traditions on the themes of remembrance and hope, and a choral work composed by a member of the Class of 2004 will be performed.
Calls to worship from a number of traditions – including the tolling of the Memorial Church bell; blasts on a shofar, or ram's horn; and the call of a muezzin, a prayer leader – will begin a few minutes before noon. The observance will begin at noon with words of welcome and invocation from Swami Tyagananda, president, United Ministry at Harvard University; Taha Abdul-Basser, of the Harvard Islamic Society; and Dr. Bernard Steinberg, executive director of the Harvard Hillel Foundation.
Four students then will read passages from various religious traditions on the theme of remembrance. The readings will be followed by a choral performance of a piece composed by Carson Cooman '04. Four students will then deliver readings from different traditions on the theme of hope. President Summers will give the principal address of the ceremony, as he did a year ago when members of the Harvard community gathered in the same spot in grief and shock.
After Summers' speech, the bell of the Memorial Church will toll for two minutes in Harvard's traditional remembrance of the dead. The Rev. Professor Peter J. Gomes, Plummer Professor of Christian Morals and Pusey Minister in the Memorial Church, will deliver the benediction, closing the ceremony. Daffodil bulbs will be distributed as a symbol of renewal and hope.
The Sept. 11 remembrance will last approximately one-half hour. All Harvard affiliates and friends of the University are invited to gather as Harvard, along with institutions and communities throughout the nation, marks the day.
Questions regarding the University observance of Sept. 11 may be directed to the Memorial Church at (617) 495-5508.