Harvard Provost Steven E. Hyman has announced the appointment of Marjorie B. Cohn, Carl A. Weyerhaeuser Curator of Prints at the Fogg Art Museum, to serve as acting director of the Harvard University Art Museums (HUAM) until a permanent successor to James Cuno is determined and installed. Cuno, director since 1991, will be leaving at the end of December to head London's Courtauld Institute of Art.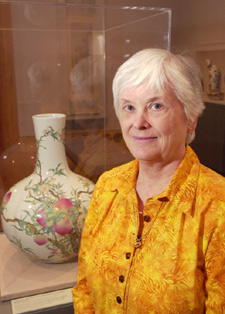 "I believe that the Harvard University Art Museums are critically important – as a center of teaching and research, as an aesthetic resource, and as a repository for our shared cultural and artistic heritage," Hyman said. "The Art Museums and the work of their curators and conservators are important not only to the students and scholars of this University, but also to the broader scholarly community and to the general public."
Prior to Cuno's arrival, Cohn served as acting director and will again oversee the Art Museums during this period of transition. She will be assisted by deputy director Richard Benefield, who will continue to manage the museums' administrative and fiscal operations.
"The coming year will be an eventful one in the history of the Art Museums," said Cohn. "We shall be developing many exciting exhibitions and focusing our attention on our facilities; in addition, the Busch-Reisinger Museum will be celebrating its centennial. I look forward to both celebrations and challenges."
The provost's office has initiated consultations over the past few weeks with curators, faculty members, students, members of the visiting committee, alumni, and other friends of the Art Museums to begin the process of identifying a successor to Cuno. This September, Hyman will convene an advisory group of curators and faculty members to advise him on the search.
Marjorie (Jerry) Cohn has worked at the Art Museums for 40 years, serving as a conservator and as director of the Center for Conservation and Technical Studies (now the Straus Center for Conservation) before becoming curator of prints. She is also senior lecturer in the Department of History of Art and Architecture and currently serves as president of the Print Council of America, the North American organization of curators of prints, drawings, and photographs.