Meenakashi Gupta '03, who has worked with Project HEALTH Girls Fitness and Nutrition Program for several years, knew that helping inner-city girls steer clear of obesity involved healthy eating and plenty of exercise.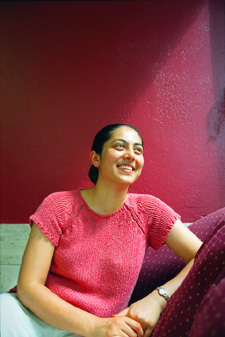 This summer, Gupta learned that it also had to do with Alexis de Tocqueville, Cesar Chavez, and Shakespeare's "Henry V."
Gupta and 14 other students furthered their passion for service by exploring the sociological underpinnings of organization in Sociology 96: "Community Action Research Project," a popular Harvard College course taught at Harvard Summer School for the first time this year.
The course, which attracted so many students this summer that a second section was added, reinforces the theoretical with the practical, sending students into community internships where they mobilize people for change.
"This course expects people to learn from action. We learn really substantive things from the readings, but it uses action to drive some of that," said Lisa Boes, a doctoral student at the Graduate School of Education who, along with Liz Steinhauser M.Div. '96, serves as instructor for the course. Kenneth Andrews, associate professor of sociology at Harvard and that department's senior tutor, sponsors the course.
Both Boes and Steinhauser were teaching fellows for the course under Kennedy School of Government (KSG) lecturer Marshall Ganz, who originated it when he was a midcareer student at the KSG in the early 1990s. Ganz, a veteran organizer with United Farm Workers and other movements, developed the KSG course (PAL 177: "Organizing: People, Power and Change") from a workshop he gave; when he was studying for his doctorate in sociology at Harvard, he retooled that course to create the undergraduate Sociology 96.
A quote from de Tocqueville, whose "Democracy in America" shares a spot on the syllabus with readings from the Bible, Shakespeare, Thucydides, and Ganz himself, provides the intellectual framework for the course:
"In democratic countries, knowledge of how to combine is the mother of all other forms of knowledge; on its progress depends that of all the others."
The quote sets the course's moral compass, as well. "If we care about democracy, which I do, and if we care about the United States living up to its values … then understanding how people combine and learning how to do it well, and helping other people to do it well" is important, said Steinhauser.
From politics to plantain soup
"It's a fantastic class. It's one of the best classes I've taken at Harvard," said Flora Hewlett '02, who worked with the Girl Scouts to organize an anti-violence education campaign.
Other students – a mix of Harvard undergraduates, high school students in the Summer School's Secondary School Program, and students from other institutions and the community at large – chose a range of projects, from political campaigns to social change to public service initiatives involving local youth.
For Gupta, the course provided an opportunity and the necessary skills to expand upon public service she had already been doing with Project HEALTH. A biology concentrator, she stayed in Cambridge this summer specifically to take Sociology 96, knowing that the workload – students are expected to spend eight to 10 hours a week on their community action projects, in addition to reading, papers, and class time – would be unmanageable for her during the year.
In her work with preteen girls from Roxbury and Dorchester who are at risk for becoming obese, Gupta had developed a seminar series for parents to spread the gospel of fitness and healthy eating deeper into the girls' lives.
"It was really interesting to see that the parents not only asked us questions but they also formed their own relationships, their own network," she said. "It sort of was a springboard for them to discuss their own issues."
Her project for the course, working with the parents to create a cookbook filled with healthy versions of their own family recipes, aimed to reinforce that network. The cookbook, published just last week, features culturally rich recipes for healthy concoctions like Haitian black beans and rice, plantain soup, and palak raita, a spinach and yogurt dish from Gupta's own Indian heritage.
While it may seem a stretch to connect the Montgomery bus boycotts with Jamaican jerk chicken, Gupta regularly integrated her course work into her project.
"The course has just been a really amazing experience," she said. "You can organize a project without taking this course, but by taking this course it's definitely helped me to refine my skills as an organizer. It's given me a different framework for thinking about a project."
'We happy few'
On a steamy July afternoon, Shakespeare's "Henry V," in the celluloid persona of actor Kenneth Branagh, came to Sociology 96 to rally the troops.
On screen, Henry delivered his rousing "We few, we happy few" speech, appealing to the pride, courage, and solidarity of his men to motivate them to join him in battle.
"What we could do if we had that music in the background," quipped Steinhauser as the clip ended and the lights flicked on.
Getting down to business, she helped the class dissect the motivational techniques Henry used to inspire his troops into battle. He reached out to them, one by one. He told a powerful personal story. He utilized a few of his allies – Steinhauser calls them his "amen corner" – to infect the rest of the soldiers with enthusiasm. While they're unlikely to ask anyone to die for a cause, Steinhauser guided her students to connect Henry's speech to their own needs to motivate people to vote for a candidate or donate money to a charity.
From Henry V to Martin Luther King to Gandhi, Sociology 96 serves up rigorous academics and theories of organizing. But it's the practical element, the community action project, that sets the course apart, the teachers and students agree.
"It's not until you see the reaction to your action that you know how effective you are, you know what to do," said Boes. "You could plan this stuff all in your head, but you don't know until you do it how people will react, and that changes how you'll implement it as you go."
For Gupta, who will continue her work with the teens and parents of Project HEALTH this coming school year, Sociology 96's mix of academics and action has outfitted her with powerful skills for change.
"I've been involved with public service but I've never really looked at it critically," she said. "Having done this reading and taken this course and really thought about these issues through the course, I think I'm able to look at my work in a different light now."