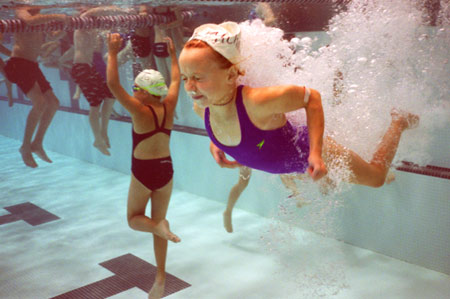 Ah, summer. Hanging out by the swimmin' hole, paddling lazily with friends, splashing cannonballs and double-dog-dares off the highest dives.
But for the chain of young paddlers thrashing a wobbly butterfly stroke down a lane at Harvard's Blodgett Pool, summertime swimming is as much business as pleasure.
"Hands in, hips up, two kicks per stroke!" says Stephanie Wriede Morawski, head coach of Harvard Women's Swimming and director, with Harvard Men's Swimming coach Tim Murphy, of the Technique Swim Camp at Harvard. "Let the water do the work. Don't dive down too deep," she adds as several young charges study their imperfections – over and over in slow motion – on videotape.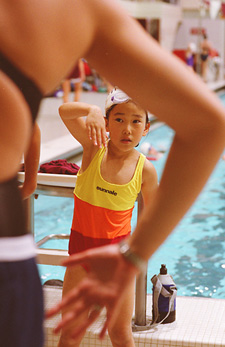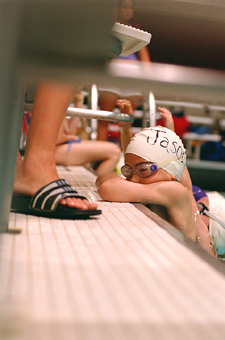 Right: Imitating her counselor, Choah Kim, 7, learns how to get the most out of her freestyle stroke. Resting between lessons, Jason Altschuler, 7, clings to the edge of the pool near his counselor's feet.
"This is a sport that goes to the hundredth of a second," Morawski explains, microadjusting one swimmer's wrist angle and encouraging another to drop her head half an inch when she comes up for air.
Video critiques, individual attention with top-level swimmers and coaches, and guest lectures by nutritionists and Olympians bring more than 100 swimmers, ages 7 to 18, to the Technique Swim Camp every week for seven weeks. Since 1994, the camp has fine-tuned the breaststroke, backstroke, freestyle, and dreaded butterfly of young competitors and swimmers getting their first taste of racing.
"Body position, pulling pattern, and kick," says Morawski, ticking down the camp's basics. "Our goal is to get them excited about swimming, teach them a few things, then get them to practice it when they get back to their teams or clubs."
While the splash fights and raft races of the swimmin' hole may be absent, the Technique Swim campers make light of their work. One young swimmer mistakenly calls the day's butterfly stroke lessons "buffalo drills," inciting bubbly laughter from her lane-mates.
"I think it's really fun," says third-year camper Jamie Giggey-Mashal, 10, from Newton. "You learn a lot."
Around the Blodgett deck, many of the crimson-shirted counselors are Harvard swimmers or coaches. Morawski says that while the Technique Swim Camp is for the precollege set, the coaching and instruction doesn't depart dramatically from what she delivers during the school year.
"Everyone can continue to get stroke tips," she says. "Even the swimmers on the Harvard record board."