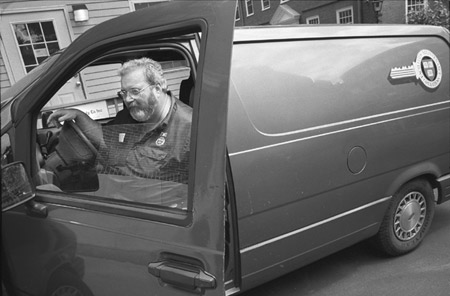 In 25 years as a locksmith with Harvard's Facilities Maintenance Operations, Dan Hilly has seen it all.
There was the time he went to reset a special fire lock on a door in one of the Houses only to find 19 birds in the room – and these weren't finches.
"These weren't little birds — they were Baretta-type birds," Hilly said. "They all kind of sat down and watched me — and I watched them too."
The birds actually might have been happier in another surprising room Hilly visited, this one with a tropical theme. The students in the suite had divided part of the floor with a large 2-by-10 and filled half with sand. Above that they had strung hammocks and augmented the setup with plastic palm trees.
It took the students two days of hauling buckets of sand down the stairs to clear the room.
Hilly came to Harvard in 1977 with six years of experience as a locksmith. Finding his profession occurred somewhat accidentally when he helped a friend clean out his locksmith shop after a fire. His friend hired him on and taught him the trade. After he started at Harvard, Hilly began helping maintain the thousands of older locks on campus, sometimes having to shape parts of bronze by soldering and re-forming them with a file.
More recently, he said, the Americans with Disabilities Act has kept him and other locksmiths busy. As locks break or wear out, they are replaced with knob-style door locks with handle style locks that are easier to open.
Whether it's replacing old locks or new, Hilly is never sure what he's going to see when he opens a door. In addition to the birds and the beach, he's seen student rooms filled with everything from phone booths to fire hydrants – complete with plastic dogs.
Over the past decade, perhaps because of broader societal changes, Hilly said he's seen fewer truly strange things. When he does come across something unusual, he said, what to do is a judgment call.
"Something that I think they can get hurt, yeah [he'd notify House officials], but if it's something the kid is doing just to have a little fun, just to take the edge off, I'll just look the other way," Hilly said.
We serve the public interest! Interesting people, interesting jobs, interesting hobbies – we want them in the Big Picture. If you have an idea for the Big Picture, give us a buzz at big_picture@harvard.edu