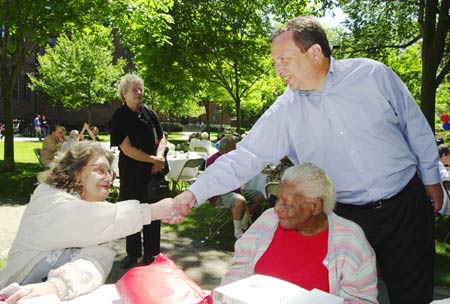 Music, dancing, entertainment, scrumptious box lunches, all under a rapturously blue sky – could Harvard's Senior Picnic get any better?
The event, staged yearly by the Office of Government and Community Affairs, brings together local seniors for an afternoon of food, fun, and socializing. It is also an opportunity for people who have lived long and interesting lives to share their stories with others.
Among the many seniors gracing Harvard Yard with their presence July 24 was Emily Mullen, 92, who worked for 40 years as a hostess at Boston's Union Oyster House.
"That's the oldest restaurant in the United States, you know. John F. Kennedy used to come in when he was a congressman. He was a very shy young man. That was before he married Jackie. He used to come in on Sunday with an armful of newspapers and sit in his special booth and read all day long. The booth has a plaque on it now – Booth 18."
Mullen's friend Edna Martin did not know Mullen during her Union Oyster House Days. The two got acquainted later while playing bingo. Then they discovered that Martin had been a girlhood friend of Mullen's younger sister.
"We do everything together now. We play bingo at the Harrington School, the Sacred Heart Church, St. Anthony's. We take the bus to Foxwoods. Gambling – that's what old people do," Martin laughed.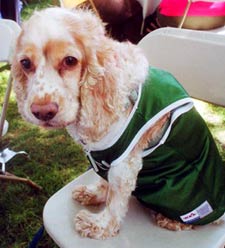 Angus the cocker spaniel isn't a senior, even in dog years, but he does a job that requires considerable sagacity. He works as a service dog for Joan Marie Coughlin, who is hard of hearing.
"He helps me on the bus, he helps me in traffic, he alerts me if anyone comes up behind me. He watches out for me like a hawk," said Coughlin. "Angus is very well known on routes 83 and 77 of the MBTA."
At another table, Marie Costello '35, reminisced about her childhood in Cambridge, growing up in the house that later became Charlie's Kitchen. After graduating from Radcliffe, she worked in the Radioactivity Center at Masssachusetts Institute of Technology.
"I'm 91 years old," she said. "I like to tell everyone how old I am, especially when I'm jaywalking."