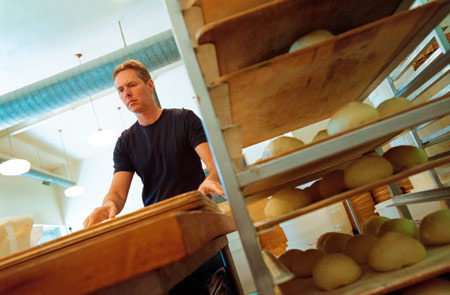 René Becker has a thing for bread.
Certainly, customers may flock to his Hi-Rise Bakeries – on Concord Avenue near the Harvard-Smithsonian Center for Astrophysics (CfA) and at the Blacksmith House on Brattle Street – for the sinful baked goods or playfully named sandwiches, but bread remains the soul of Becker's enterprise.
"Bread's sort of my passion," he says. It's an understatement from the man Boston Magazine dubbed "the Leonardo da Vinci of carbohydrates."
Becker calls bread "a fascinating puzzle. With four ingredients – water, flour, yeast, and salt – you can do so many amazingly different things," he says. He chooses his ingredients with great care, buying some grain directly from farmers and having it ground to his specifications at an independent mill in North Carolina. The fifth ingredient is time, and Hi-Rise uses lots of it, giving some doughs up to five days to work their yeasty magic.
While the resulting loaf is no bargain, "people, especially in this area, really appreciate the difference," says Becker.
He ticks off a quintessentially Cantabridgian list of customers: Graduate School of Education professors at the Brattle Street location, astrophysicists on Concord Avenue, the Harvard Faculty Club (one of his first and few wholesale clients), and the former doyenne of Cambridge culinary, Julia Child. At Real Pizza in Huron Village, the newest addition to Becker's domain of dough, pies are named after astronomers or astronomical phenomena, a nod to his many customers from the CfA.
Raised in Detroit, Becker learned the basics of bread making from his mother. Later, while traveling through Europe during his meandering college career, he would stop in at local bakeries and ask to watch and learn from the master bakers there.
"They love company. At 5 in the morning, who wouldn't?" he says.
A former baker at hotspot eateries Biba and Pignoli, Becker, who has also been a food writer, opened the original Hi-Rise on Concord Avenue in 1996; the Blacksmith House branch followed a year later. The enterprise – Becker's first business – now employs more than 40 people.
"If I had known how much work it was going to be, I'm not sure I would have done it," he admits. His almost evangelical passion for the staff of life buoyed him through 20-hour days and daunting loans. "I really thought that I could make great bread," he says.
For all his enthusiasm, Becker believes that bread takes an important but humble seat at the table. "I don't think that bread should ever be the star of the meal," he says. "It's a vehicle for the rest of the food that's on the table."
We serve the public interest! Interesting people, interesting jobs, interesting hobbies – we want them in the Big Picture. If you have an idea for the Big Picture, give us a buzz at big_picture@harvard.edu