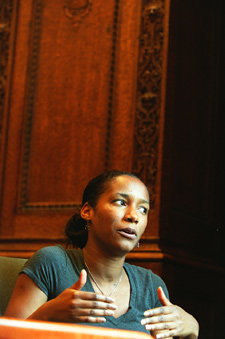 Forty years after their forerunners took to the lunch counters and streets of the American South, 21 young activists are putting their own spin on civil rights: by dancing, teaching, praying, and learning.
The future leaders are honing their advocacy and activism skills at the second annual Civil Rights Summer (CRS), a fellowship program sponsored by The Civil Rights Project at Harvard, the Leadership Conference on Civil Rights, the Leadership Conference Education Fund, and the Citizens' Commission on Civil Rights.
Before launching into seven-week internships with civil rights groups in Washington, D.C., CRS participants – 20 college students and one just-graduated senior fellow – brought their passion to the Harvard campus in June for a week of learning that they described as "intensive."
But the 12-hour days, packed with lectures by Harvard faculty, field trips, and group discussions, hardly took a toll on the fellows' enthusiasm.
"We're so far from equity, and we're so far from a society in which opportunities are open that it's very important that people are still willing to dedicate themselves to civil rights and social justice," said Brittny-Jade Saunders '03, the only Harvard student in the geographically diverse group. "That's what this program's all about, encouraging people who have this interest."
Saunders' own interest has been fueled by public service work she does at Harvard: She's the co-chair of CHANCE, a Phillips Brooks House program that works one-on-one with Cambridge Rindge and Latin School students to prepare them for college.
After listening to powerful lectures by Professor Gary Orfield, co-director of The Civil Rights Project, and Prudence Carter, assistant professor of sociology at Harvard, Saunders, who plans a career in civil rights as a lawyer, is more committed than ever to teaching middle school history before going to law school.
"I think it's very important to learn about the contemporary state of civil rights … [about] how policies that are being passed today jeopardize civil rights," she said.
For Adam Ramírez, teaching is civil rights. The Chicago native, a student at Roosevelt University there, hopes to draw on his own experience as a Mexican American who narrowly escaped the gangs that lure many Latino youth away from school.
"My major goal is education," said Ramírez, adding that he was missing the graduation of the eighth-graders he worked with to be at Harvard. "Education is vital to destroying the barriers to minorities."
Slightly dazed from the nonstop pace of the week at Harvard, Ramírez looks forward to his internship in Washington with the Hispanic Association of Colleges and Universities. Outspoken in his advocacy of multicultural education, Ramírez has embraced his own culture, practicing the conchero dancing and sweat lodges of his Aztec ancestors.
"As an adult, I'm learning about my culture," he said. "It's unfortunate that I couldn't learn about it as a child."
As president of Yale University's Muslim Students Association this past year, Sarah Izfar had a crash course in civil rights leadership after Sept. 11. Yet the Houston native comes to the Civil Rights Summer eager to learn more.
"I know that I'm intuitively interested in working to promote civil rights, but I don't think that I have the necessary background and education," she said.
For Izfar, an economics major who will work at the National Partnership for Women and Families for her CRS internship, the lectures by the speakers she calls gifted, challenging, and accessible have sparked her continued growth.
Izfar cites a talk on leadership development by Hugh O'Doherty, adjunct lecturer in public policy at the Kennedy School of Government, as particularly inspirational.
"He had some ideas about leadership that were so fundamentally new and I had never been exposed to them, and at the same time they were so appealing," she said.