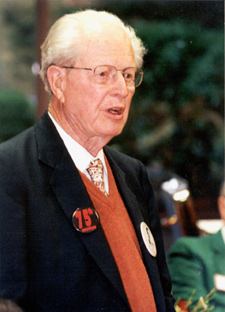 Former Harvard Business School (HBS) Professor Pearson Hunt, an authority on corporate finance whose research helped shape modern financial management practices, died June 30 at Mt. Auburn Hospital in Cambridge. Hunt was 93.
The Edmund Cogswell Converse Professor of Finance and Banking Emeritus, Hunt was "a pioneering scholar and teacher," says Samuel L. Hayes III, Jacob H. Schiff Professor of Investment Banking Emeritus. "His work on the interconnections between a firm's free cash flow and its strategic options led to a new approach to assessing and valuing a business."
Hunt loved teaching finance concepts as much as researching them, said Charles M. Williams, George Gund Professor of Commercial Banking, Emeritus. "Pearson Hunt taught with consummate skill at Harvard Business School for 35 years and then at several other schools during his 'retirement.' He influenced a generation of finance professors who went on to do great things in their own careers."
One of the first to bring to the attention of the academic community the problems related to the management of working capital, Hunt made constructive contributions toward analyzing and solving these problems more effectively. He also contributed to the theory of capital budgeting and to the development of a more realistic application of the cost of capital to investment decisions. In the midst of this work, Hunt coined the term E.B.I.T. (earnings before interest and taxes), a concept familiar to students of finance everywhere.
Hunt was born in 1908 and raised on Staten Island, N.Y. He did not formally attend school until the 11th grade, when he entered the Lawrenceville School in Princeton, N.J. Instead, his grandmother, a former teacher who lived with the family, tutored him. "I think some of my characteristics of looking at novel ways of doing things came from her," he said in an interview in 1983, upon receiving the HBS Distinguished Service Award, the highest honor the School can bestow upon a retired faculty member.
Hunt graduated magna cum laude and Phi Beta Kappa from Yale University in 1930, completed the first year at Columbia Law School, and then studied economics for a term at King's College, Cambridge University. After a cousin who was a student at Harvard Business School convinced him to enroll, Hunt earned an M.B.A. with high distinction in 1933. Six years later, he received a doctorate in commercial science — the precursor to today's doctorate in business administration (D.B.A.) — from HBS.
Hunt liked to say that he had found his calling once he discovered Harvard Business School's hallmark case method, a teaching and learning experience rooted in in-depth discussions of real-life situations in the business world. "I was always a missionary for the case method," he wrote in a 1995 memo about how he wanted to be remembered after his death.
Named an assistant professor at HBS in 1940, he became a full professor a decade later. During World War II, he served as an instructor at the Army Air Forces Statistical Control School on the HBS campus, as well as a staff member in the Radiation Laboratory at the Massachusetts Institute of Technology.
Although Harvard Business School was his professional home from 1940 to 1975, Hunt also taught on five continents during his HBS tenure and after his retirement from the School. He liked to say that he had "two strings to my bow" — his passion for finance and his passion for teaching.
Among his proudest accomplishments, said Hunt, were advocating modern management practices in postwar Europe and establishing an international teachers program that enabled several hundred young faculty from Europe and Latin America to visit American business schools, including HBS, for a year. He also led management development programs in Britain, Canada, Chile, Guyana, Italy, Kenya, and Mexico.
Affectionately known by HBS students as "fearsome Pearson," because of his demanding presence in the classroom and persistent questioning of anyone who was off the point of a discussion, Hunt believed that teachers have an obligation to grow intellectually and admit when they are wrong. "It takes courage to get up in front of a group and say, 'I used to think so and so, but I don't anymore.' But say it you must," he said.
Hunt also urged teachers to make a subtle but important shift in their thinking about what it is that they do. "The statement, 'We must learn how to teach,' if thought through carefully, must be revised to 'We must learn how people learn.' If one has done this, even imperfectly, he will be a teacher."
The author or co-author of numerous books and articles, Hunt wrote "Basic Business Finance" in 1958 with HBS Professors Charles M. Williams and Gordon Donaldson; more than 300 universities used the text in their finance courses. Hunt's 1966 Harvard Business Review article, "The Fallacy of the One Big Brain," was one of the first major treatments of corporate decentralization. "A company that denies the planning dimension of work to the lower levels of management obtains what it deserves — [people] who, when promoted, are not able to plan ahead."
After retiring from HBS in 1975, Hunt taught at the University of Massachusetts in Boston, helping the new school develop its business program.
When he and his wife began spending their winters in Winter Park, Fla., away from the cold of Cambridge, where they lived the rest of the year, Hunt kept on teaching — at nearby Rollins College.
Besides his work, Hunt especially enjoyed music, art, and theater. His tastes were eclectic, ranging from chamber ensembles to 20th century compositions and from Renaissance Italian art to modern works.
In addition to his wife (Edna Homa, the first woman to receive a D.B.A. from HBS), Hunt is survived by his son, David, of Springfield, Vt.; two daughters, Merrill Tikalsky of Williston, N.D., and Lucy Grant of Exeter, England; and four grandsons.
No funeral service is planned. A memorial service will be held in the fall. In lieu of flowers, donations in Professor Hunt's memory can be sent to the Pearson Hunt Fund, c/o Ms. Kerry Cietanno, Teele Hall 413, Harvard Business School, Boston, MA 02163.