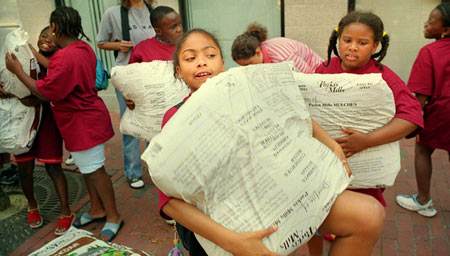 Swimming. Crafts. Field trips. Public service.
For the 150 campers in the Cambridge Youth Enrichment Program (CYEP) of Harvard's Phillips Brooks House Association (PBHA), Fridays introduce a new element to the usual summer camp fare: helping.
CYEP, the largest and one of the oldest of PBHA's 10 summer camp programs for low-income youth, organized a single day of service last summer, said camp director Tim Schneider '03. It was such a hit with campers, their parents, and the community that it's a weekly activity this year. CYEP campers will visit a home for the elderly, read to burn victims, and sew sleeping bags for the homeless, among other projects.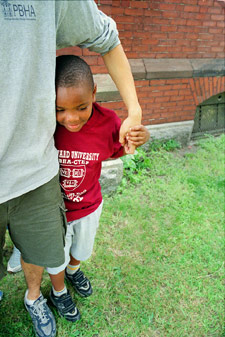 Fhanillia Menard and Karolline Braga (above left), and Tim Schneider '03 and Okey Agu (above right) rest after mulching.
On Friday (July 12), Schneider and Wellesley College student Diana Dube, a senior counselor, kept a watchful eye on 10 7- and 8-year-old campers charged with mulching the grounds around the First Baptist Church in Cambridge's Central Square.
"This stuff used to be that stuff?" exclaimed 8-year-old Malcolm Alexandre as the Rev. Kirk Higbee-Barzola showed how his compost pile turned corncobs and coffee grounds into rich, fertile soil. Worms and other wriggling byproducts drew squeals of horror and delight.
As vice president of PBHA, Schneider welcomes the opportunity to pass a passion for public service along to another generation.
"If you get kids started doing service when they're younger, it really sticks," he said. As his charges collected worms and admired their landscaping work, he added, "A lot of the things we're doing are really fun."