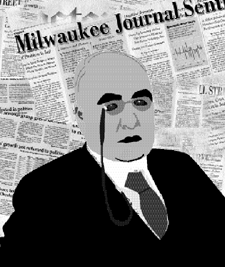 Each fall, wide-eyed freshmen arrive in Cambridge in droves, brimming with excitement as they consider all the possibilities for a major. Aspiring attorneys turn up to learn the lay of the law. The business school welcomes soon-to-be CEOs, CFOs, and other corporate VIPs. But Harvard also has programs that play host to an impressive assembly of intellectuals and professionals who are already firmly established in their fields. One of the best known of these programs is for journalists.
The Nieman Foundation recently announced the 65th class of fellows. Each year, about 24 midcareer journalists are chosen from hundreds of applicants to spend a year at Harvard exploring a field of interest. The fellowship offers them the opportunity to take classes at the University and engage in seminars with Harvard scholars and writers. Weekly "shoptalk" sessions are a forum for fellows to convene at the cozy Walter Lippmann House near Harvard Yard to discuss tools and trials of the trade. There are also three in-house creative writing classes offered: Authors Anne Bernays and Rose Moss each leads a fiction writing class, and Mark Kramer, Nieman's writer-in-residence, teaches a class in narrative journalism. Each aspect of the program satisfies the Nieman Foundation's mission, defined by Agnes Wahl Nieman: "To promote and elevate the standards of journalism and educate persons deemed specially qualified for journalism."
The oldest midcareer fellowship for journalists in the world, the Nieman fellowships were established in 1937 in Agnes Wahl Nieman's bequest in memory of her husband, Lucius W. Nieman, founder of the Milwaukee Journal (now the Milwaukee Journal Sentinal).
Each year, fellows come from around the globe to enhance their insight into their field of specialization. This year, for instance, Frank Langfitt, Beijing bureau chief for The Baltimore Sun, will study the political economies of India and China, with an emphasis on their past travails and future potential. Natalie Pawelski, CNN's environment correspondent, is focusing on political, scientific, and economic roots of American energy policy and its environmental consequences. An Israeli diplomatic correspondent, Raviv Drucker, is coming to explore international conflict, resolution negotiation, and the impact of news coverage on settlement efforts.
And that's only a small sampling of the thought power that will fuel these high-flyers through the fellowship year.
Sending in an application at the end of January (international candidates have until March 1), applicants mark the end of a rigorous process, one that Seth Effron, deputy curator of the Nieman Foundation, describes as "self-vetting." The number of applications received this year was only about 10 percent of the number requested. In addition to the several letters and clips required, the application calls for two reflective essays, one addressing the applicant's life and work and the other dealing with a course of study, including which Harvard resources he or she would utilize.
"Applicants don't map out a specific project, they map out a vision of how they would get value out of a year at Harvard. The Nieman year is just that: a year for exploration. … [We're] looking for people who really [convey] a firm sense that they'll tap into Harvard's resources – that they have a vision for doing that," explained Effron.
The program is open to print, broadcast, and Internet writers and editors, as well as photojournalists and editorial cartoonists. This year, the selection committee sifted through the stacks of applications, from 135 U.S. applicants and 128 international applicants, and, after rounds of interviews, whittled them down to 12 from each group.
The American fellows were picked by a committee that this year included Anne Bernays, creative writing instructor at Harvard; David Barron, Harvard Law School professor; Callie Crossley ('83), an independent news-media consultant and Harvard Institute of Politics Fellow '02; John Harwood ('90), political editor for the Wall Street Journal; and Bob Giles, committee chair and Nieman Foundation curator. Giles selected the international fellows.
Since some news organizations in other countries are controlled by the government, the selection of international applicants requires establishing that the candidate is a legitimate journalist. Giles contacts many people at Harvard and around the world, including former follows, for impressions of the candidates and verification that each is doing "important investigative reporting" for an independent news organization.
"[These journalists] are courageous because they subject themselves to various political forces in their countries. We're particularly interested in journalists from countries where there is an emerging form of democratic government, where free press may be a fragile entity, where we believe the experience at Harvard as a Nieman fellow can send such a journalist from such a country back to journalism there and [she] can make a real impact on behalf of the free press," said Giles.
They may bring home vast gains after the fellowship year, but not before offering valuable lessons in Cambridge. "It's relatively easy for a journalist to practice in the U.S. It's extraordinarily difficult for some journalists in foreign countries. We have a spirit in this country that honors free press. One of the things the U.S. fellows discover when they get to know their international classmates and learn about the experience they have is what a high price international journalists pay to be a journalist. It's a great learning process for everyone involved," said Giles.
When the panel makes selections among U.S. candidates, the members are focused on finding "journalists of accomplishment, people who have excelled in their career to this point and show evidence of great promise to be leaders in their field. The most critical aspect of the whole application process is the proposal that the applicant makes for how they would spend their year at Harvard. Many of those selected have given considerable thought to what they need to know about the subject they're covering. They raise many questions to themselves about their own development as journalists and they're able to explain this in a proposal in a way that makes a compelling case for selection," Giles explained.
Of the more than 1,000 journalists who have been Nieman fellows since the program's inception, many have gone on to win prestigious awards, like a Pulitzer, a Peabody Award in journalism, or an Emmy in broadcasting.
As eventful as the year can be for a fellow, it's hardly all work and no play. In fact, in many ways, it can be quite a family affair (and not just because many fellows come to Cambridge with spouses and children). Relationships within each year's class are fostered by ongoing interactive projects. Fellows engage in weekly sessions, some contribute articles to the quarterly Nieman Reports, and they attend monthly Faculty Club dinners and conferences.
"It's intellectually stimulating but it's also social. It's an opportunity for people who are really interesting, talented journalists to both feast on Harvard's intellectual offerings and also learn about each other and their experiences in journalism and life," said Effron.