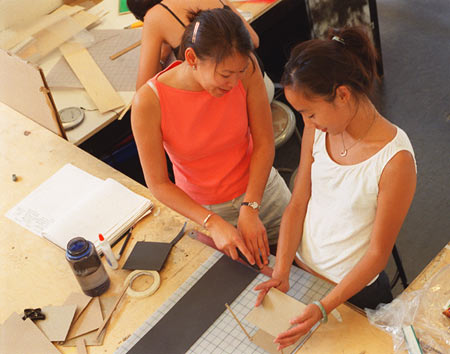 As an electrical engineer in the aerospace industry, Ksenia Kolcio spends her time designing satellites. Knowing that her handiwork is in orbit thousands of miles above the Earth's surface is a source of satisfaction, but Kolcio has always yearned for more.
"Satellites are not occupied by people, at least not yet. There's no human element involved."
Kolcio is contemplating a career move that will bring a human element to her work. She is thinking about becoming an architect. But before making the major commitment of enrolling in a graduate program, she is spending the summer finding out if architecture is really for her.
As one of 330 students in the Graduate School of Design's (GSD) Career Discovery Program, Kolcio has been attending lectures, going on field trips, learning skills like drawing and model making, and solving specific design problems. Halfway into the intensive six-week program, she is already feeling better prepared to make this important career choice.
"I've always been interested in architecture, but now I feel that I know a lot more about it, not just about the discipline itself, but about the process of becoming an architect and about the options that are available."
The program attracts not only those contemplating career moves like Kolcio, but college students and recent college graduates considering design as a first career, as well as students of all ages who wish to enhance their understanding of the world of design. In addition to architecture, students can choose to specialize in landscape architecture or urban planning and design.
"They come from an amazing variety of backgrounds," said Martin Zogran, principal instructor of the program's urban planning and design track. "But they're all people who've figured out that there's something out there called planning, and they've come here to expose themselves to the profession."
That exposure is as complete and many-sided as possible. One morning last week, for example, Zogran's students heard a presentation by recent GSD graduate Georgeen Theodore on the transformation of a neglected neighborhood in Houston by Chinese immigrants. That afternoon, the students were at their drafting tables working on the second of three projects, a master plan for the redevelopment of North Point, a section of Cambridge now occupied by abandoned rail yards and industrial buildings.
"There are so many different skills that people can bring to this field," said Becky Haberkorn, an undergraduate at Carleton College. "Some people are good at research, some have graphic ability, or a head for business, or an understanding of economics or politics."
Haberkorn contemplated the large map of Cambridge spread out before her on the table, marked by a complicated overlay of arrows in different colors.
"I think my own strength is being able to express ideas through pictures. I'm a math major, and I think that helps you see things spatially."
The last project the urban planning and design students will undertake will involve their people skills as well. The students will represent different constituent groups in Boston and stage a negotiation to decide one of the city's most hotly debated design issues – what to do with the open space that will be available once the Big Dig is completed.
While the urban planning students were poring over their Cambridge maps, landscape architecture instructor Wes Michaels was guiding his students through a different sort of exercise. Each of them had chosen a chair created by a prominent designer. Their task was then to abstract the essence of the chair and design a garden around it that embodied that quality.
Michaels, who is entering his last year in the GSD's master's program in landscape architecture, said that working as a teacher rather than a student has been something of a revelation for him.
"It's an interesting task, figuring out just what do I know, and how do I tell people what I know, and then how do I help students find what they want?"
In another section of the "trays," the vast, terraced workspace of Gund Hall, architecture instructor Elisa Silva's students worked on an abstract design problem in which they are asked to convey a specific idea through a three-dimensional form.
"My idea here is to have eight different planes that slice through each other," said Ariel Diaz, displaying a small model glued together from precision-cut cardboard pieces. Diaz, who graduated from Dartmouth this past June with a degree in engineering, plans to study in Germany for a year before returning to the States for further training in engineering.
"I feel I've been getting some really good exposure to architecture," he said. "The people here are just incredible, and the environment is very stimulating. It's a lot of fun, too."
"I've really enjoyed teaching," said Silva, who, like many of the instructors, received her master's degree from the GSD this past spring. "They ask some really good questions. It forces you to think about your own assumptions. Sometimes I think I'm learning more than they are."