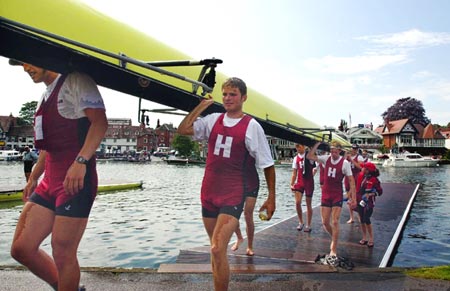 Capping off a tremendous 2002 season, Harvard's heavyweight crew captured three championship titles – a new school record – at the prestigious Henley Royal Regatta, which concluded July 7 on the Thames River in Oxfordshire, England.
The varsity eight won the Ladies' Challenge Plate, the meet's No. 2 international event, defeating London's Molesey by nearly three lengths in the finals. Harvard advanced to the championship race by recording a two-and-a-half-length triumph over South Africa's Old Edwardians Boat Club in the semifinals.
The freshman crew captured the Temple Cup for the second straight year, defeating Oxford Brookes in the finals by three-fourths of a length. Earlier in the competition, the freshmen rowers beat both the University of London and Marist College of Poughkeepsie, N.Y.
The series of Henley triumphs completed a spectacular spring for Harvard rowing. Both the varsity and JV boats went 6-0 during the dual racing season, with the JV and freshman boats winning Eastern Sprints titles. Harvard also claimed the Rowe Cup for overall heavyweight supremacy at Sprints, and convincingly swept the 150th anniversary Regatta against rival Yale.