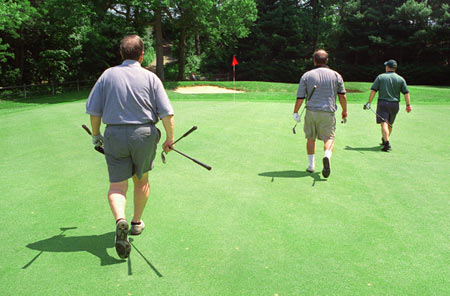 They weren't playing around while playing a round, because they were golfing for a serious cause.
The city of Cambridge and Harvard University linked up on the links June 21 at the Thomas P. O'Neill Jr. Fresh Pond Golf Course in Cambridge for the 10th annual Cambridge-Harvard Golf Tournament. The tournament, which raised $8,500, benefits the Cambridge Fund for Housing the Homeless.
It was a hot day on the fairways, but players made their tee times and played through teatime anyway. The tournament was broken into two rounds, with golfers playing either in the morning or afternoon.
The Cambridge Fund for Housing the Homeless is a program of Cambridge's Multi-Service Center, operated by the Department of Human Service Programs. The Multi-Service Center collaborates with a number of community agencies to coordinate services, such as transitional housing and elderly housing searches, for homeless and near-homeless people.
– Alvin Powell