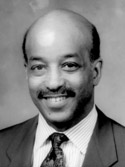 Thomas S. Williamson Jr. '68, has been elected president of Harvard's Board of Overseers for 2002-03. He will succeed Richard E. Oldenburg '54, after Commencement.
An Overseer since 1997, Williamson is a partner in the law firm of Covington & Burling in Washington, D.C., and the former chief legal officer of the U.S. Department of Labor.
"Tom Williamson has been a consistently thoughtful and insightful contributor to the Board of Overseers, and it will be a pleasure to work with him even more closely in the year ahead," said President Lawrence H. Summers. "He brings to the task a wide range of interests and experience, a strong record of public service, and a nuanced understanding of the human dimensions of complex organizations. We're very fortunate to have the benefit of his leadership and service."
"I am pleased and honored to have the opportunity to be of service in a leadership role on the Board of Overseers," said Williamson. "Harvard is a remarkably diverse community that has much to be proud of in celebrating its traditions and even more to be excited about in addressing the daunting challenges of the University's future."
As an Overseer, Williamson has served as chair of the Board's Committee on Institutional Policy, and as a member of its Executive Committee and its Committee on Natural and Applied Sciences. He also serves on the Committee to Visit Human Resources, and was a member of the committee for the Corporation search that concluded in April 2002.
A member of Kirkland House as an undergraduate, Williamson graduated magna cum laude and Phi Beta Kappa with a concentration in social studies. He played varsity football, participated in social work projects through Phillips Brooks House, served as vice president of the Undergraduate Council, and was chair of the Ad Hoc Committee on Black Students in spring 1968. He went on to study at Oxford as a Rhodes Scholar, then earned his law degree from the University of California, Berkeley.
He began his legal practice at Covington & Burling in 1974, and served as Deputy Inspector General of the U.S. Department of Energy from 1978 to 1981. He then returned to Covington & Burling as a partner in the firm, and took leave from 1993 to 1996 to serve as Solicitor of the U.S. Labor Department, the department's chief legal post. Williamson's current legal practice focuses on employment law, complex litigation, and health and welfare law matters for state governments. He is co-author of "The Contingent Workforce: Business and Legal Strategies" (2000).
Long active in civil rights and community service, Williamson is the chair of the ChevronTexaco Task Force on Equality and Fairness, and serves on the boards of directors of both the Lawyers' Committee for Civil Rights Under Law and the Washington Lawyers' Committee for Civil Rights and Urban Affairs. He is also a member of the American Law Institute.
Williamson is a past member of the Athletics Department Visiting Committee and a former director of the Harvard Alumni Association. He has served on the HAA's special subcommittee to promote outreach to prospective applicants from the Washington, D.C., public schools. He and his wife, Shelley Brazier, live in Washington with their three children.