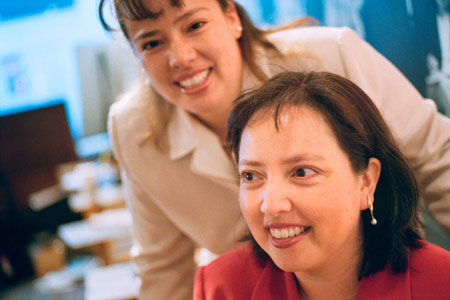 No one needs to tell the Jimenez family that Harvard is worlds away from their home in Rancho Cascade, Calif.
After all, Norma Jimenez, who receives an Ed.D. from the Graduate School of Education (GSE) today, flew home to pick up her ailing father and grandmother and drive them the 3,000 miles to Commencement. Her sister, Margarita Silva, who will collect the same degree, flew into Boston a few days ago with other family members in tow; in total, some 22 relatives have journeyed east for the occasion.
Yet the first time the Jimenez family made the trip, the distance – physical and metaphorical – was almost unfathomable. It was 1991 and Margarita, the oldest child, had been accepted to the Graduate School of Education. Her father, whose formal education stopped three weeks into the eighth grade, announced that the family would drive her to Cambridge to settle her in.
"How far can it be?" challenged the Jimenez patriarch, who emigrated from Mexico with his wife 35 years ago and had never been farther west than Las Vegas. Margarita recalls showing him a map and pointing out the other ocean next to Boston so he could grasp the distance.
Undaunted, the Jimenez family – parents, Margarita, Norma, and three younger siblings – took a 27-day van trip across the country to ensure that Margarita's latest educational endeavor got off to a good start.
Laboring hard for an education
Margarita and Norma's Harvard doctoral degrees represent the pinnacle of achievement to the education-focused Jimenez family. "Our families have been instrumental," says Margarita. "We couldn't have done this if we had to do it alone."
Education and family have been the twin themes of the sisters' lives, intertwining like melody and harmony. Their parents set the bar high; the five Jimenez siblings consistently sailed over it.
But academic achievement wasn't the only goal. "It wasn't just expected that you were going to do well in school, but that you were going to contribute to the family, too," says Norma.
So when a private Lutheran school accepted Margarita in the seventh grade, sparing her the triple threat of busing, teasing, and low expectations she had faced in public elementary school, working as a janitor to offset her tuition seemed a small price to pay.
"It was the first time that I ever heard from a teacher, 'You're smart, you're capable,'" says Margarita. "I think that's what turned my life around, was someone who was in education believing that I could be successful academically."
Norma soon followed in her sister's academic and custodial footsteps.
Pushing a broom in the tender years of adolescence hardly phased the sisters; they had been helping with the family "business" – delivering newspapers, cleaning houses, working at swap meets – since they were three or four.
"We've always worked as a family," says Margarita.
"For us, school was an escape from the work we had to do at home in order to help sustain the family economically," Norma adds. The consequences of a lack of education, they say, were never an abstraction; the lived them daily.
From the Lutheran high school to Concordia University Irvine, another Lutheran institution where she studied to be a teacher, to Harvard, Margarita beat an ambitious academic path. Norma stayed close at her heels, reaping the trail-blazing knowledge that her older sister picked up along the way: tips like how to take SATs, how to negotiate college applications, how to ferret out obscure sources of financial aid.
Any sibling rivalry between them dissipated in high school, they say.
"I came to the understanding that if we work together, that was going to be much better than if we work against each other," says Norma. "It's a blessing to work with your sibling, to be interested in very similar things and to enrich each other's work in that way."
Going back to give back
Not surprisingly, both sisters' doctoral theses tackle topics related to the education of immigrants, specifically Mexican Americans. Both worked with former assistant professor of education Janine Bempechat in the GSE's Human Development and Psychology area.
Margarita, who, as part of her graduate work, has been teaching at Concordia's School of Education for five years, was just named California's Teacher Educator of the Year. She focused her doctoral research on Proposition 227, the initiative that dismantled bilingual education in California in 1998. She looked specifically at the initiative's effects on first-grade teachers in a predominantly Mexican school.
Visiting that school shortly after the initiative passed, she was stunned to see "the chaos that the teachers were going through and the students were being put through" as they struggled to adapt.
"I was concerned about the quality of education that kids were going to get, especially when you're at a school that's 99 percent English-language learners," she adds.
For her dissertation, Norma conducted a longitudinal study of adolescents of Mexican descent, exploring the effects of gender, generational status, and ethnic identity on academic achievement. Studying low-income students in a predominantly Latino school in southern California, she wanted to find out who did well and why.
"One of the problems I have with the literature on Latino students is that it mostly focuses on failure," she says.
Yet there are low-income Latino students – all the Jimenez siblings, for instance – who do succeed academically. "What can we learn from those who do well in order to assist those who don't do well?" she says. "How can we create a culture at school where we have these high expectations, where we believe that all children can do well?"
If the sisters sound as much like activists as like educators, it's not accidental.
"We try very hard to give back to the community, not forget where we came from," says Margarita. Both sisters mentor Latino students, particularly low-income students to whom the tools of success are not immediately obvious. "We need more role models, more people who will make those tools accessible," she adds.
Two degrees shared by the family
Next week, the sisters will return to California, and next year, Norma will join Margarita on the Concordia faculty, teaching cultural anthropology and serving as an administrator working on campus diversity.
But first, there are robes to don, degrees to collect and 22 family members to entertain. On top of completing her thesis, Norma has been planning this gathering since October, scheduling airport pickups, corralling friends' spare bedrooms and couches, and printing out itineraries to acquaint the family with Boston's cultural and historic riches.
"We needed to coordinate and graduate together because we are not flying everyone out here twice," Norma says, adding that the stress of staying neck-in-neck with her sister doubled the ordinary tension of completing a dissertation. "We were hoping to get a two-for-one tuition break," she jokes.
Tonight, when the clan is gathered for dinner in a Peabody Terrace function room, Norma and Margarita will do their best to share the limelight with the entire family.
"It has really been a family effort, these dissertations," says Margarita. Not only did the sisters support each other, each filling in the gaps in the other's knowledge and experience, but siblings, boyfriends, husbands, and parents got into the act, editing, copying, collecting, entering data – and babysitting Margarita's two children.
"We wish the degree had more letters in it," says Norma, "so we could pass them around to everyone."