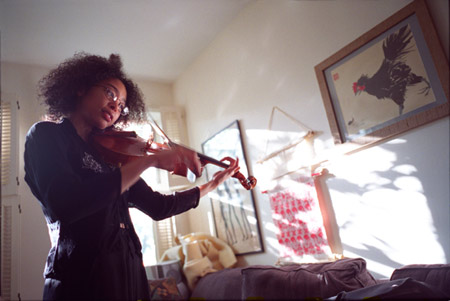 Now that Nokuthula Ngwenyama is about to receive her master's in theological studies, she feels less sure about her goals than when she started the program.
An up-and-coming viola soloist, Ngwenyama came to the Divinity School to explore the relationship between music and spirituality, between the role of the performer and the role of the religious leader.
"I came in with so much more direction," she laughs. "Now that I'm leaving, I'm just flailing."
Her uncertainty doesn't seem to worry her, though, perhaps because she has had so much experience creating harmony and purpose from apparently disparate elements.
Consider the circumstances of her birth and upbringing. Her father is a member of the Ndebele tribe of Zimbabwe (it was he who gave her her African name), and her mother is Japanese. The couple lived in South Central L.A., but divorced when Ngwenyama was 3. She was subsequently adopted by a family friend, a white single mother who lived in Pacific Palisades – about 30 minutes from Los Angeles on the Santa Monica Freeway, but a world away.
Ngwenyama knew early on that she wanted to be a musician. The knowledge came to her as a revelation the first time she heard her adopted brother rehearse with his school orchestra. She started on piano, then switched to violin. Then at the age of 12 she had another revelation. She was listening to a recording and the sound of a viola captivated her.
It took her a week to find out what the instrument was, but as soon as she did, she knew she had to play it. Her violin teacher didn't want her to make the transition, but she persisted and eventually her passion for the instrument won out.
Compared with the violin, the viola is rarely featured as a solo instrument. The literature for the viola is much smaller and less well-known, but this hasn't stopped Ngwenyama. Since she started playing professionally while still a teenager, critics have described her as "a stunning young soloist," "a risk-taker," and "brilliantly expressive," with "effortless technique and a thoroughly satisfying tone."
Why would a young musician who is starting to get herself noticed in a highly competitive field decide to enter graduate school in a seemingly unrelated subject, adding the pressures of papers and exams to the pressures of a performing career?
"If you think only about your career and not about personal enhancement," she says, "you end up missing all the fun. People get on one-track lives and they don't consider other things that might influence their development."
Ngwenyama describes herself as being in a minority among her Div School peers in that she does not practice a specific religion.
"I'm more of an explorer. I think that music provides a lot for me that faith might provide."
As a Divinity School student, Ngwenyama decided to specialize in world religions outside the Judeo-Christian tradition. This has allowed her to explore the twin traditions that are united in her own family tree – those of Japan and Africa.
As she begins to speak of her investigations into Buddhism, Shintoism, and the religions of Africa, Ngwenyama's eyes glow with excitement. It doesn't take much coaxing for her to launch into a précis of a research paper she completed recently, a study of the Lemba people of Southern Africa and their mysterious ties to Judaism. In the midst of enumerating various theories, she interrupts herself with a laugh.
"You can tell this is just fresh off the keys," she says, her slim fingers fluttering above an imaginary computer keyboard.
Ngwenyama hasn't let graduate school interrupt her performing career, although juggling the two has sometimes involved "some tribulation." On the other hand, the two occasionally fit together quite comfortably. Often Ngwenyama would bring her class reading to concerts and peruse it backstage after her performance was over.
"It's a really nice time," she says. "You're relaxed because the concert is over, but you're still buzzed, so your brain is still working and you tend to retain the information."
Whatever the circumstances, music seems to serve Ngwenyama as a kind of magic spell, bringing healing and harmony to the most difficult situations.
This turned out to be the case when she went to Zimbabwe after giving a concert in South Africa and visited her Ndebele relatives for the first time. Standing in the midst of people to whom she was related by blood but whose language she could not understand, she took out her viola and played a Bach prelude for them. They seemed polite and attentive but unmoved. Seeking something more upbeat, she tore into the fourth movement of Hindemith's solo viola sonata. They loved the piece, some of them shouting with enthusiasm, and Ngwenyama's playing brought tears to her grandmother's eyes.
In the aftermath of Sept. 11, Ngwenyama found that her music could bring peace and solace to herself and others.
"When I heard the news, it just seemed as if the world had gone crazy. I couldn't deal with what was going on. All I could do was play Bach."
Ngwenyama took part in a vigil at the Divinity School, adding the music of her viola to the roster of students and faculty who tried to find meaning in what had happened.
"People at the Div School tried to come together, to keep the community open and friendly and pluralistic. It was good to be part of that."
Now that graduation is at hand, Ngwenyama plans a vacation in Nova Scotia filled with reading and playing purely for pleasure and relaxation. Then she will move to Phoenix, where she and her boyfriend, a classical guitarist, will work on a CD of duets.
She says she still has to figure out just how her studies at Harvard have enhanced her music and her life, but she has no doubt that the effect has been positive.
"Education opens up worlds to you."