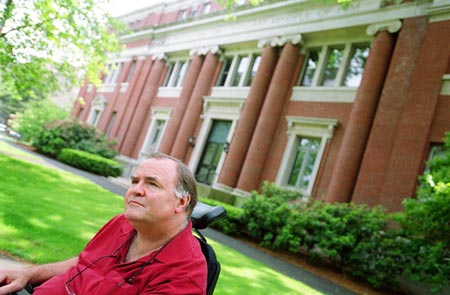 Almost 30 years after he dropped out of college, Bill Dodd sat in his office, looked at the pile in his "in" box, and decided to tackle the task that had been on his agenda the longest.
He decided to come back to Harvard and complete his undergraduate degree.
"I looked at my 'to-do' list," jokes the 53-year-old Dodd. "Completing my degree at Harvard was the oldest thing I hadn't crossed off."
Dodd originally came to Harvard from Sidney, Ohio, in September of 1967. An all-state quarterback, he expected his undergraduate years to revolve around sports and academics. The Vietnam War was at its height, however, and Dodd was drawn to the protests on campus. He developed conflicting feelings about his comfortable life in Cambridge, so much so that he left Harvard after only a couple of semesters.
"My high school (football) co-captain was in Vietnam crawling around rice paddies," Dodd remembers. "I was walking around Harvard. I couldn't make the two things mesh. Finally I said, 'I'm going to leave until I figure out my place in the world.'"
He took a job at a magazine and moved to Southern California. After a year or so, he decided to give Harvard another try, but found himself no more comfortable than he had been as a freshman. He also became more involved in the protest movement, sometimes with frightening results.
"It was the '60s and there was a whole lot coming down," he recalls, the lingo of the day returning with his memories. "(Students) were down on Mt. Auburn Street, faced off against the National Guard. They were trying to push us back, so a friend of mine said 'Come on.' He had a set of keys to the Student Nonviolent Coordinating Committee headquarters.
"We went upstairs and I opened a window (overlooking Mt. Auburn). It made a loud creak and one of the National Guardsman spun, took a knee, and pointed his rifle right up at me."
Dodd decided to leave Harvard again. He returned to the publishing industry and worked in the alternative press on the business side.
In 1973, Dodd began to experience discomfort in his legs. He described the pain to his doctor as "pins and needles." He also experienced occasional numbness. Soon he was diagnosed with multiple sclerosis (MS), a debilitating illness that attacks the central nervous system. At first, Dodd decided to try to "outrun" the disease.
"We were just coming out of a period where, if you had MS, they would tell you just to go sit in a corner," he explains. "I tried to get as much in and as much out of my body as I could before [MS] caught up with me."
In 1975, Dodd met Richard Parker, now adjunct lecturer in public policy at the Kennedy School of Government. The two hit it off and Dodd joined Parker and his colleagues in founding a new magazine in San Francisco: Mother Jones.
"We tried to capture the tenor of the new politics," says Dodd. "(Mother Jones) was anti-war, feminist, and came out just after the '60s, when we'd made huge strides in civil rights. We'd had Watergate and the Democratic Convention in '72 with the police cracking everyone's heads, and we'd had Kent State. They were turbulent times.
"It was terribly exciting," he exclaims. "We felt like we were starting something new."
After a few years, Dodd started his own company, Parker-Dodd. The firm used Mother Jones' direct-mail and direct-response techniques to raise funds and membership numbers at nongovernmental organizations such as Greenpeace. By 1979, however, multiple sclerosis caught up with him.
"MS is progressive," Dodd explains. "So you'll get a symptom, say, lose strength in your arm or something. Then (the strength) comes back, maybe 98 percent, but it's never all the way.
"(During the early '80s) I went through a rough period," he says wearily. "It was the pressure and long hours of running the company. I'd jog and after two miles my left foot would (go limp). I got overheated."
Dodd went into "semi-retirement," and was unsure of his next move. It was a couple of years before his symptoms receded. When they did, Dodd returned to the nonprofit world and opened up a West Coast office for Craver, Mathews, Smith and Co., a Washington, D.C., organization that handled membership and fundraising for groups such as the Sierra Club and Common Cause. He enjoyed the work, but his symptoms progressed. A promotion to senior director allowed him to lighten his supervisory responsibilities, and by the early '90s the western office had become a new company: Dodd Smith Dann Layher. The nature of his business was changing, though, and regional clients needed more onsite attention that required travel, which was increasingly difficult for him. By 1998, he was looking at redefining his role in the company again – this time from a wheelchair.
"I took a period off," says Dodd. "I decided to take my mother to Paris and Madrid. It was a wonderful trip. When I came back to the office, I was looking at products and procedures. I thought, 'I've really accomplished what I wanted to accomplish here.'"
Soon after, Dodd's partner Shawn Grogan suggested that he go back to school. He was intrigued. He called his old house – Leverett – and asked if he might rejoin the student body. To his surprise, he had only to submit a letter to the Administrative Board, requesting reinstatement. He faxed one over and within a week he was told "congratulations." He was a student again.
"When I left, Harvard told me I could come back anytime," he says. "They were as good as their word."
When Dodd returned to Cambridge in September of 2000, he found that being at Harvard was a little more difficult than getting readmitted: Many of the buildings were inaccessible ("I've seen a lot of basements," he says with some chagrin.)
"Bill's had to adjust to New England winters, a more rigorous Gen Ed (or CORE) requirement, and the need to take certain courses he has had less appetite for," says Tom Dingman, Dudley House senior tutor. "Throughout, he has shown a remarkable resilience, open-mindedness, and willingness to share what he has learned banging around in the world. A sense of humor has, undoubtedly, helped him."
Dodd also had to adjust to a curriculum that had accumulated 30 years of new information and research.
"I had some science courses where the professor would say, 'You learned this in high-school biology.'" Dodd laughs. "Shawn [Grogan, who accompanied him to class] and I would look at each other and say 'No we didn't!' When I took high-school biology, those things hadn't been discovered yet!"
Dodd persevered and this June he will receive his undergraduate degree in government. He hopes to be back in September to take part in the Kennedy School's midcareer master's program.
Throughout his time back at Harvard, Dodd has kept in touch with members of the Class of 1971. Most have been supportive, but one or two have had their doubts.
"Some say 'Wouldn't it be wonderful [to be back at Harvard]?'" he says, "But some say 'Write papers?! Take exams?! Are you kidding?!'"