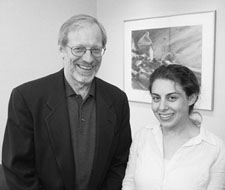 Abigail Hoover (far left) and Rachel Jaffe (far right), winners of the Joint Center for Housing Studies awards, pose with their respective mentors, Assistant Professor of Architecture Ashley Schafer and Lecturer in Housing Studies James Stockard. Harvard's Joint Center for Housing Studies has announced its selection of Rachel D. Jaffe and Abigail N. Hoover, both of the Graduate School of Design, as this year's recipients of the Awards for Outstanding Housing Paper or Design. Each year, the center awards the prizes for graduate-level research and design that best advances the field of housing studies as an academic endeavor.
"We are always pleased to encourage and recognize exemplary scholarship," Joint Center Director Nicolas P. Retsinas said.
Jaffe's research focused on the role that private, nonprofit organizations play in affordable housing in the United States. In her winning paper, "With a Little Help: Private, Nonprofit Organizations Becoming More Financially and Technically Efficient," Jaffe, a master of urban planning candidate, proposed forging new types of partnerships between for-profit and nonprofit firms in order to increase efficiency in nonprofits already active in affordable housing.
The award winner for design, Abigail Hoover, a master in architecture candidate, chose to create a graphic portrayal of current housing in the Americas. In "Housing Data: Looking Beyond the Numbers," Hoover used graphic design to illustrate and clarify her findings, transforming data that might ordinarily be considered mundane into engaging visual representations.
The Joint Center for Housing Studies analyzes the ways in which housing policy and practices are shaped by economic and demographic trends and provides leaders in government, business, and the nonprofit sector with knowledge and tools for formulating effective policies and strategies. The center is a collaborative unit affiliated with the School of Design and the Kennedy School of Government.