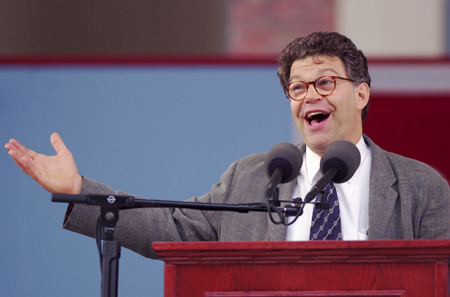 Al Franken is the perfect Class Day speaker – just ask him.
Franken, a member of the class of 1973 and, by the way, not the Class of 2002's first choice for speaker, treated graduating seniors gathered in Tercentenary Theatre Wednesday (June 5) to his blunt, funny views of the world, of Harvard, and of the world after Harvard.
Franken wasted no time, kicking off his speech with a jab at the controversy over senior Zayed Yasin's planned Commencement Day speech, "My American Jihad," which has made national headlines because of concern by some about the presence of the word "Jihad" in the title.
"I was all set to give a speech today entitled 'American Jihad,'" Franken deadpanned. "But after receiving several complaints I have decided to instead give a less controversial speech entitled, 'The Case for Profiling Young Arab Men.'"
Franken, who became a stand-up comedian and writer for "Saturday Night Live" upon graduation from Harvard, was the guest speaker at a two-hour program of farewells, guffaws, and "welcomes-to-the-real-world" aimed at the Class of 2002. Among the speakers were the Class' First Marshal Gerard Hammond; Harvard College Dean Harry R. Lewis; Harvard Alumni Association President-Elect Charles Brock; seniors Michel Di Capua and Amanda Mulfinger, who delivered the Harvard Orations; and seniors Taii Bullock and Jeremy Bronson, who delivered the Ivy Orations.
Franken's Class Day appearance comes on the day before graduation, which is traditionally reserved for Senior Class activities, and follows last year's speech by U2 lead singer Bono and "Late Night" host Conan O'Brien '85 in 2000.
Franken, whose work as a writer, producer, and comedian has won him both Emmy and Grammy awards, told graduates his level of fame is just perfect for him to present useful advice: He's not a total failure but he doesn't have such enormous fame – such as Bono and another previous speaker, Mother Teresa – that he can't relate to the struggle they're about to face.
"The perfect person to be speaking here today is me," Franken said, and then, referring to a Crimson article reporting that other celebrities were considered before him (and quoting one student's preference for Madonna), added: "[I'm] someone who's had success, but who isn't your first, second, third or even eighth choice."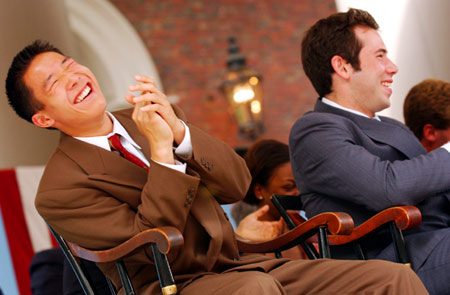 Franken counseled the graduating seniors not to believe platitudes and warnings about the pitfalls of success that students often hear on Commencement Day. Success, he said, is a lot better than failure.
"This spring, countless graduates at other universities have been told: 'It's lonely at the top.' It's not. Believe me, it's much, much lonelier at the bottom," Franken said. "Here's another soothing but useless bromide: 'Every time one door closes another door opens.' That's not true. And very often when one door closes another does open – a trapdoor leading directly to that lonely place at the bottom."
Franken wasn't the only one in a humorous mood Wednesday. Several of the other speakers also got the crowd laughing.
"Then there was that whole grade inflation thing I keep reading about in the paper – boy, did that pass me by," joked the Class' First Marshal, Hammond.
Ivy Orator Bronson took a jab at Harvard's famed diverse student body, saying, "Some were presidents of their high school, and still others were vice presidents of their high school. Many scored 1,600 on the SAT and yet, there were also those who scored between 1,590 and 1,600 on the SAT."
But the day had its serious moments. A moment of silence was observed for the victims of the Sept. 11 tragedy, and Dean Lewis gave students a briefing on what to expect on Commencement Day.
Even among the jokes was a tone of nostalgia colored by the excitement of the journey ahead. Hammond quoted from "Don Quixote," counseling his classmates to "Love not what you are but what you may become." Harvard Orator Mulfinger said graduates should measure success after Harvard by their own yardsticks, not by some impossible ideal.
"Make the people around you admire who you are, not the place from whence you came," Mulfinger said. "Make yourself proud. Make yourself happy, live the way you want to, and then you'll be a success."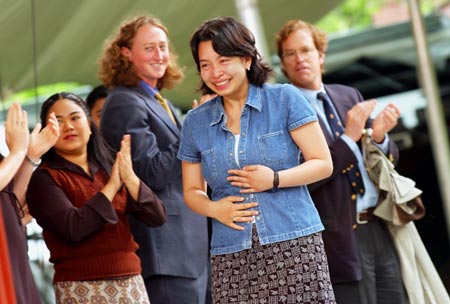 Lewis urged students to embrace nostalgia, if they're feeling it: take a last look around, breathe the air, and embrace friends. And if the graduates bump into Harvard administrators or faculty, he said, be sure to say hello because their link to Harvard will last a long time.
Amidst his jokes, Franken also gave the students some advice, telling them to take risks, as he did after graduation when he drove to Los Angeles to do stand-up comedy in nightclubs. He also told them that family is always important, through successes and failures. He said that parenting is the toughest job they'll ever love and that he's looking forward to the graduation of his daughter, a Harvard junior, next year.
"Next year, I hope to be sitting where you are, next to my daughter, Thomasin, listening, hopefully, to Madonna," he said.