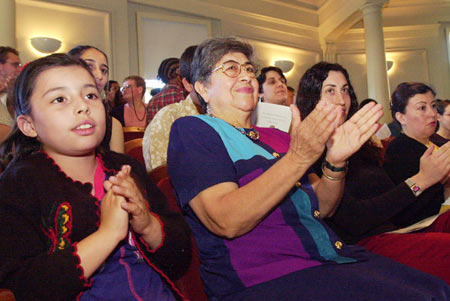 On June 2, Harvard recognized the scholarship of an unusual, and often invisible, student body. Cooks, custodians, and maintenance workers took center stage at 3 p.m. in Radcliffe's Agassiz House for the "Academic Achievement Celebration" of the Harvard Bridge to Learning and Literacy Program. The program gives service workers the language and literacy skills they need to perform their jobs better and, perhaps, get a better job.
"It's the same concept as giving people time off to learn … presentation skills or grant writing," said Carol Kolenik, director of the Bridge Program. "This is the first plan that actually treats literacy and language skills in the same way — as a legitimate job skill."
From August through May, the workers in the program get four hours of paid release time each week to learn English, computer skills, or the subjects they need to earn a high school diploma. Held onsite, the classes are staggered to cover work schedules ranging from 9-to-5 to the graveyard shift.
With her supervisor's blessing, Yesenia Quezada, 40, took a break from her duties on the cleaning staff of the Harvard Museum of Natural History to learn English. Chosen to speak at Sunday's ceremony, the El Salvador native said the Bridge Program not only gave her the literacy skills she needs to be successful but the confidence to pursue her dreams.
"I can say that learning English has changed my life," she said. "Now I can speak for myself and I can go anywhere. I'm more able to communicate with people in my workplace and with my supervisor. I can understand what they expect of me and I am able to be more helpful with my children."
Quezada even helped her teenage daughter get into college. "I went with her to the interview but I didn't know that they wanted to talk to the parents. When I found out, I was afraid because I didn't want to do anything wrong. But my daughter said I was great and I felt so proud."
Quezada, who runs a small pastry business out of her home, said the computer classes she took through the Bridge Program helped her connect more closely with her son, who is studying computer science at a college in Quincy.
"Now I can use the computer," she said, "I go on the Internet. I can send e-mail and I can get e-mail. I never had an opportunity like the Bridge Program gave me."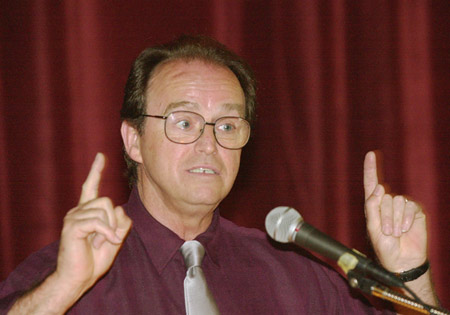 Bridge director Kolenik started the program in the fall of 1999 with 38 Harvard Faculty Club workers. Since then, the program has grown to include about 500 workers from units across the University. It has reached about 20 percent of Harvard's part-time, full-time, and contract workers in food service, transportation, and maintenance, and has enrolled nearly a third of the custodians, according to Kolenik.
Bridge students in each department are chosen using a lottery system. Those who do not get into class are given the services of a tutor to start them on their way. "If you finally come forward and say you need help the worst thing anyone can do is say 'you're on a waiting list.' I've seen that kind of thing kill the interest in learning," Kolenik said.
One of the first students in the Bridge Program was Dan O'Connell. O'Connell's interest in learning took an early detour when his family needed help. He dropped out of school in the ninth grade and went to work. The Boston native held down two jobs and went on to raise his own family. Since 1978, he's worked as a custodian at Harvard. Last year, O'Connell earned his high school general equivalency diploma; he shared his experiences at Sunday's ceremony.
"It's a very positive thing for a lot of people that are disadvantaged by the circumstances of their education," commented O'Connell, 60. "For me, this was my time. I got older and I had more free time and I thought I'd go back to school. Harvard gave me that opportunity and I took it."
While Sunday's ceremony marked the end of classes for the academic year, the Bridge program will offer computer courses and begin a summer reading group the week of June 17. The program also plans to open a career and academic counseling center sometime this summer.
For more information, contact Shannon Quinn at (781) 894-8059 or Carol Kolenik at (617) 495-2535.