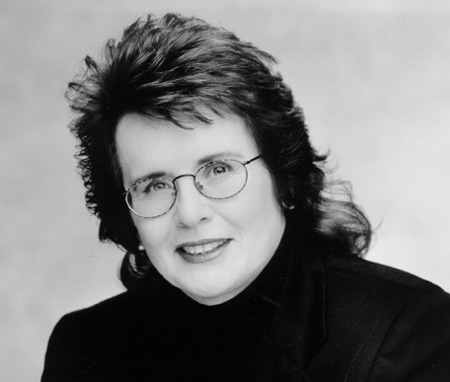 Tennis legend Billie Jean King will receive the Radcliffe Medal at a special luncheon Friday (June 7) at the Radcliffe Institute for Advanced Study. Billie Jean King, a leader for social change both on and off the tennis court, will be presented with the 2002 Radcliffe Medal during ceremonies on Friday (June 7) at the Radcliffe Institute for Advanced Study.
King joins an impressive list of previous Radcliffe Medal honorees, including Madeleine Korbel Albright, Elizabeth Dole, Charlayne Hunter-Gault, Susan Love, Jessye Norman, and Janet Reno. The medal is awarded annually by the Radcliffe Association during Harvard Commencement/Reunion Week to an individual whose life and work has had a significant impact on society.
"I am very proud to accept this honor because, throughout its history, Radcliffe has been a strong supporter of equal rights for women," said King, an inductee of the National Women's Hall of Fame. "Even though the playing field has become more level for women, there is more work to do. This award will inspire me in my pursuit of a time when women and men are unconstrained in their pursuit of excellence."
One of the most illustrious and celebrated tennis players in history, King has compiled an impressive list of achievements. She is the winner of a record 20 Wimbledon titles, and she ranked No. 1 in the world in singles five times between 1966 and 1972.
When she defeated Bobby Riggs in the 1973 "Battle of the Sexes," it was a defining moment for women in tennis as King empowered women and educated men in the process.
King was the driving force behind the women's movement in tennis, challenging the status quo and eventually winning equal prize money for women players. Her desire for equality on the court led to the formation of the Virginia Slims Tour in the early 1970s. She founded the Women's Tennis Association and the Women's Sports Foundation, a nonprofit initiative that supports girls and women in all sports.
When she co-founded World TeamTennis in 1974, King became the first woman in professional sports history to coach a coed team, the Philadelphia Freedoms. In 1984, King was named commissioner of TeamTennis and became the first woman in professional sports history to hold that office. She also coached U.S. Olympic and Federation Cup tennis teams and led the United States to the Federation Cup title in 1999. As a tennis commentator, she has shared her expertise and insights with viewers on HBO, CTV, ABC, CBS, and NBC.
Her dedication to social causes has broad reach. King serves on several boards, including the Elton John AIDS Foundation, the National AIDS Fund, and the Women's Sports Foundation. She has established World TeamTennis Charities to encourage the pursuit of excellence by women and men regardless of gender, race, physical or mental challenges, appearance, or sexual orientation.
Her efforts have been rewarded with numerous honors. In 1998, she became the first athlete to win the Elizabeth Blackwell Award, which is presented annually by Hobart and William Smith College to a woman whose life exemplifies outstanding service to humanity. King also won the Arthur Ashe Award for Courage in 1999 for her fight to bring equality to women's sports. In 1990, Life magazine named her one of the "100 Most Important Americans of the 20th Century."