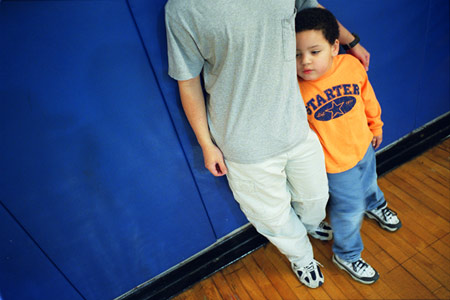 It's Saturday morning and 6-year-old Desean Watson is hugging his Big Buddy, Harvard senior Nikhil Dutta.
In a few moments, the pair will attempt a few stomp dance steps taught by the Harvard Steppers from the small stage at the YMCA in Cambridge's Central Square. Then they'll segue to art class for some coloring and then on to the gym for a vigorous game of kickball.
"Desean loves it," said his mother, Edith Watson, who watched Desean and Dutta interact from a folding chair at the back of the room. "I wish it could go on all day on the weekends. He enjoys it and always says 'Mommy I want to go to the Y every day.'"
Desean and Dutta are taking part in a new public service program that pairs Boston-area special-needs kids with 25 Harvard student volunteers. The program, called REACH, which stands for Recreational Experience and Arts Creativity with Harvard, was begun this year by two Harvard sophomores, MaryElizabeth McGillicuddy and Daniela Tartakoff.
"I love to work with children," said McGillicuddy, a history of science concentrator. "I think children in general can sometimes be overlooked, especially children with special needs. Though they do require a lot of attention, it's amazing how much they can give back."
McGillicuddy said she and Tartakoff met as freshmen and wanted to volunteer with an organization that worked with special-needs children in both group and one-on-one settings. Though other organizations work with special-needs children, they don't have the group interaction component, McGillicuddy said. That prompted her and Tartakoff to begin their own organization, which is targeted at children with both physical and emotional needs and which had both group and one-on-one components.
After a summer of planning and recruiting of both Harvard student volunteers and children who need extra attention, REACH opened its doors at the Central Square YMCA last fall. The program offers two hours of activities, beginning with a group activity – such as the performance by the Harvard Steppers – and then shifting to one-on-one activities of art and gym.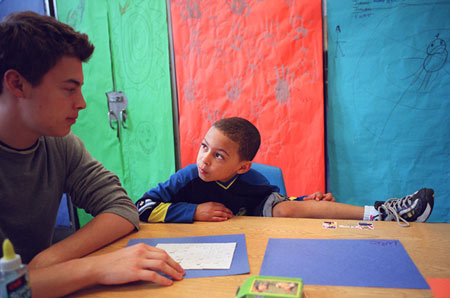 The children, who come from communities all around the Boston area, are paired with a Harvard student volunteer who acts as their Big Buddy. Together, they paint, color, dance, play, laugh, and just spend time together – a sharing that is as valuable to the Harvard student volunteers as it is to the children.
"This is just as much fun for me as it is for them," said sophomore Moira Dwyer. "I've always loved helping people. I especially like helping kids because I feel you can make a difference."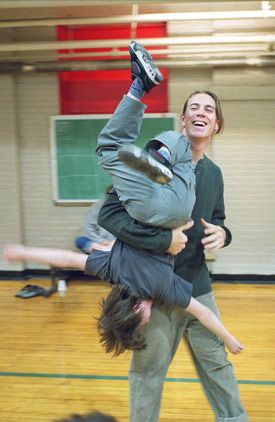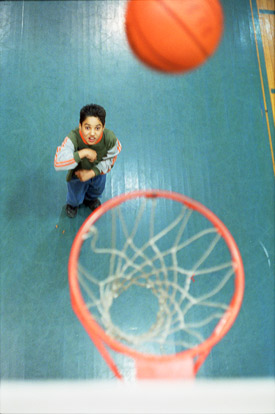 Big Buddy Chad Bayowski '04 and Adrian DeRoche, 8, seem pretty comfortable with each other. The two are fooling around after a kickball game. (Staff photo by Kris Snibbe) Doug Rivera-Pagan, 9, keeps an eye on the ball as he shoots hoops as part of the day's activities. (Staff photo by Kris Snibbe)
Last Saturday's activities were the last for the year, but McGillicuddy and Tartakoff said REACH will be back next year and they're working to make it bigger and better. They're seeking funding sources so they can increase the number of children eligible from 22 to 30 and expand from the 6- to 11-year-old age group to include older kids, perhaps in a theater-arts type of program, where kids do everything from acting to building sets.
"I am already excited to start up again next year," Tartakoff said.